Arkham Horror board game (Fantasy Flight Games)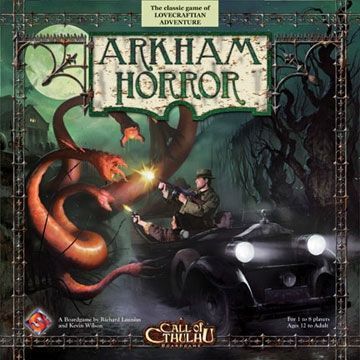 Condition:
Near Mint Board Game
Fulfilled By:
TrollAndToad.Com
Isbn
9781589942103
Description
Players can select from 16 unique playable investigator characters, each with unique abilities, and will square off against the diabolical servants of 8 Ancient Ones, including Ithaqua, Hastur and the terrible Cthulhu! No fan of the Cthulhu Mythos will want to miss the opportunity to acquire this classic Call of Cthulhu board game!

Arkham Horror is a cooperative game for 1-8 players ages 12 and up, and can be played in 2-3 hours.

The town of Arkham, Massachusetts is in a panic. Horrific and bizarre events have begun to occur with increasing frequency - all seeming to point towards some cataclysmic event in the near future that may spell disaster for everyone. Only one small band of investigators can save Arkham from the Great Old Ones and utter destruction! Originally published by Chaosium, Inc., this new, updated edition of Arkham Horror features stunning new artwork, as well as revised and expanded rules from the game's original creator, Richard Launius!

Dimensions
3.5" H x 2.5" W x 1.5" D
Ship Weight
5.496 pounds
This co-op game is a real blast for old RPG gamers like myself. FAQs and errata need to be issued, some questions in the rules, though boardgamegeek has answered some of those for me. But it'll be a great spooky game once they get the rules cleaned up.
Condition:
Near Mint Board Game
Fulfilled By:
TrollAndToad.Com