Axis & Allies D-Day board game (Avalon Hill)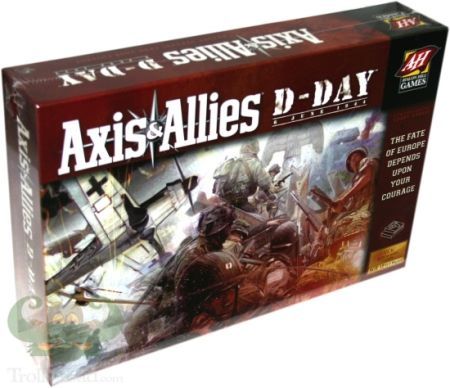 Condition:
Near Mint Board Game
Fulfilled By:
TrollAndToad.Com
Barcode
653569285045
Isbn
9780786948864
Description
It's the morning of June 6, 1944. As Allied forces prepare to storm Normandy's beaches, the fate of Europe is in your hands! In honor of next years 60th anniversary of D-Day, Avalon Hill will release Axis & Allies D-Day, a new, stand-alone extension of the classic strategy game Axis & Allies. Axis & Allies D-Day will allow players to recreate the largest amphibious invasion in history.

Scheduled for release in May 2004, Axis & Allies D-Day will feature detailed game components including a new blockhouse piece, an extra-large game board, and original artwork commissioned exclusively for the D-Day game box. Other elements of this new Axis & Allies variant include a card deck with three card types -- Orders, Tactics, and Fortune -- to add depth and complexity to play. Order cards determine play sequence and break turns into distinct phases; Tactics cards offer players varied strategic opportunities; and Fortune cards add an element of unpredictability.

Axis & Allies D-Day begins as Operation Overlord, the invasion of German-held Normandy, is underway -- 130,000 soldiers of the United Kingdom, Canada, and the United States are poised to assault Fortress Europe. You and your fellow world powers control their fates.
Dimensions
10.5" H x 15.75" W x 3" D
Ship Weight
3.27 pounds
-
September 10, 2004
-- Kevin Lewis
Interesting variation on my favorite classic boardgame. The addition of blockhouses and random amounts of reinforcements make this game a challenge to plan strategy with. I have not completed enough games to see if one side has an overwhelming advantage, but my experience with other Axis and Allies expansions shows that most balance issues can be addressed with rules updates. The box says 12 years and up, but most adults would be challenged by the strategetic variations available. The extra cards for tatics and random events add further complexity to this game. If you can find any used version on the internet, I would be suprised to see who would invest their money in this game and then drop it from their collection. Overall, much better as a shorter diversion for 2-3 hours.
Condition:
Near Mint Board Game
Fulfilled By:
TrollAndToad.Com