Book of Vile Darkness hardcover supplement (d20 D&D 3.0) WOC88161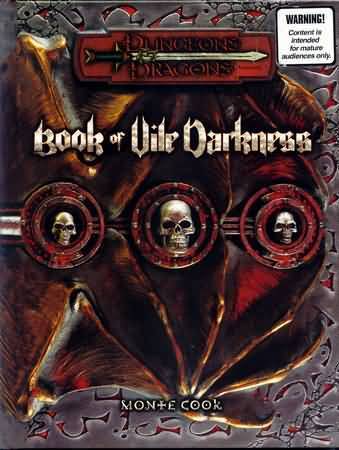 Condition:
Near Mint Role Playing Game
Fulfilled By:
TrollAndToad.Com
Isbn
978-0-7869-2650-3
Set
D&D
Description
Book of Vile Darkness Accessory

This sourcebook for the D&D game is intended for mature audiences and provides a Dungeon Master with unflinching access to subject matter that will broaden any campaign. Included is a detailed look at the nature of evil and the complex challenge of confronting the many dilemmas found within its deepest shadows. Along with wicked spells, wondrous items, and artifacts, Book of Vile Darkness also provides descriptions and statistics for a host of abominable monsters, archdevils, and demon princes to pit against the noblest of heroes.

To use this supplement, a Dungeon Master also needs the Player''s Handbook, the Dungeon Master''s Guide, and the Monster Manual.



Dimensions
11" H x 9" W x 1" D
Ship Weight
2.37 pounds
-
May 15, 2007
-- Jon Ryner
First, this is a 3.0 book, not 3.5, and is geared for use by the DM, not Players. Although it was not nearly as "vile" as it should have been (especially considering the parental warning on the cover), I was impressed with some of the new spells. Nothing made me cringe, but some of it was nasty (in a good way). The rules for sacrificing creatures were lackluster, and some things were not taken into account (such as unholy days, and solar alignments). If you are a DM looking for a touch of darkness to add to the campaign, this book is a good (bad?) generator of ideas....if you have the imagination to take it one step further.....into the dark side.
Condition:
Near Mint Role Playing Game
Fulfilled By:
TrollAndToad.Com