FOR2 Drow of the Underdark softcover supplement (AD&D 2nd Edition RPG) TSR9326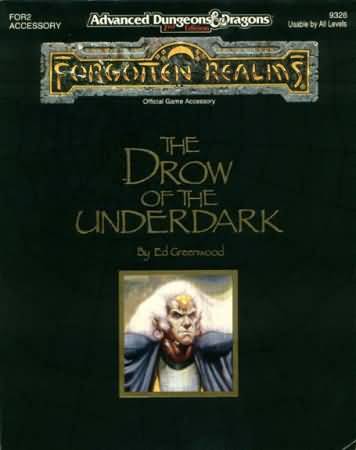 Condition:
Near Mint Role Playing Game
Fulfilled By:
TrollAndToad.Com
Isbn
978-1-56076-132-7
Set
AD&D 2nd Ed.
Description
The Drow of the Underdark FOR2 Forgotten Realms Official Game Accessory

They are the favorite foes of many a party of adventurers. In these pages, the drow come to life, their culture and powers detailed fully for the first time. This guide presents new rules galore: new spells, new magical items, insight into the mysteries of Lolth, Monstrous Compendium entries for related monsters of the Underdark - and much, much more.

Learn all about the drow herein, from the words of the ancient elven sage Erlathan Greycloak:

"Proud, graceful evil. Cruelty personified; talent wasted, beauty lost in darkness."

to the lore of the great sage Elminster:

"Did I ever tell thee how close I came to having a drow wife? No? Well, then..."

Dimensions
11" H x 9" W x 1" D
Ship Weight
0.7 pounds
-
August 23, 2004
-- Richard Bickmore
i loved this product..... i really wish you had it in stock, because i would buy it in a heart beat...this is a very hard item to find these days
-
September 06, 2001
-- Joe Furlow
Despite the fact that this is a second edition book, it is one that I still use in my campaigns now. It is one of the best reference books for the Underdark that I have yet to find. As long as you keep in mind that THAC0 is no longer an issue, this book can continue to serve you well for years to come.
Condition:
Near Mint Role Playing Game
Fulfilled By:
TrollAndToad.Com