Orc Wizard #56 Blood War D&D Miniatures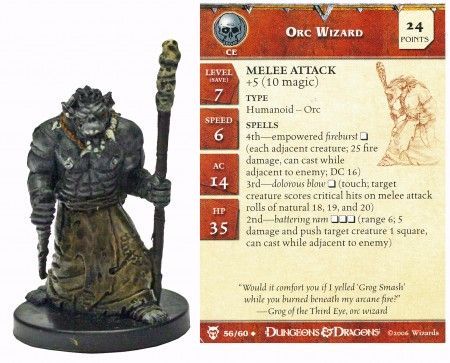 Condition:
Complete Miniature Including Card
Fulfilled By:
TrollAndToad.Com
Rarity
Uncommon
Description
Blood War Uncommon Single Miniature.

True to the head-to-head nature of the D&D Miniatures Game, the Blood War set highlights miniatures which find their true nature on the plains of war. Per previous releases, the figures in the set are selected from key D&D RPG titles such as Monster Manual, Monster Manual III, Miniatures Handbook, and the Eberron & Forgotten Realms campaign settings. Some of the more popular figures from this set include: Solar, Storm Silverhand, Fire Giant Forgepriest, Horned Devil, Ice Devil, Pitfiend, Githyanki Dragon Knight, and Vlaakith the Lich Queen.
Dimensions
1.5" H x 1" W x 1" D
Ship Weight
0.02 pounds
-
January 21, 2012
-- Elrond
Here's something you don't see every day - an orc wizard. The mini is really cool and the stats are a great addition to a DDM warband. I think his gear and clothing could be done better, but I like the staff and the wicked jagged dagger in his right hand.
Condition:
Complete Miniature Including Card
Fulfilled By:
TrollAndToad.Com