Orcus, Prince of Undeath Gargantuan D&D Miniatures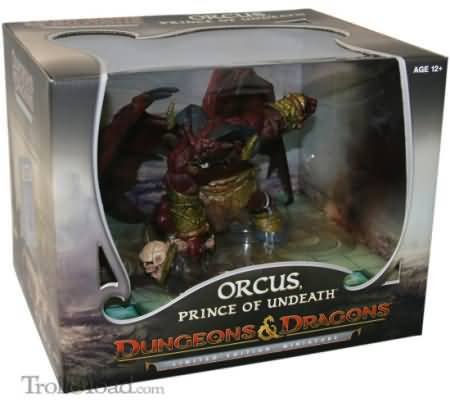 Condition:
Near Mint Large Miniature In Box
Fulfilled By:
TrollAndToad.Com
| | |
| --- | --- |
| Description | Are you ready for this Gargantuan Miniature? Orcus, Prince of Undeath is the prince of the undead. He controls armies of followers both dead and living and enjoys the suffering of others. His goal is to destroy the living and have complete control over the undead. Can your heroes survive, or will you make the prince leader of your armies? |
| Dimensions | 9" H x 11.25" W x 9.75" D |
| Ship Weight | 2.658 pounds |
-
March 24, 2011
-- Amber Biesecker
Outstanding figure! Totally intimidating. My players' faces blanched when I posted a pic from my cell phone on my Facebook page.
Condition:
Near Mint Large Miniature In Box
Fulfilled By:
TrollAndToad.Com