Ambush Drake #30 Deathknell D&D Miniatures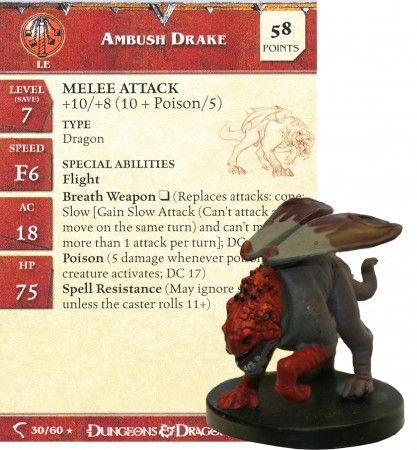 Condition:
Miniature Missing Card
EVO Merchant:
Sparks Treasures
Fulfilled By:
TrollAndToad.Com
Rarity
Rare
Description
Deathknell Rare

Fight against the denizens of the deep as well as menaces from the surface with the Deathknell Expansion for D&D Miniatures!The figures in this set will be chosen directly from key D&D titles, including Libris Mortis: The Book of Undead, Monster Manual III, Complete Adventurer, the Eberron Campaign Setting, and the classic D&D adventure, The Temple of Elemental Evil. Plenty of "must haves" from this set including the Beholder, Death Knight, Griffon, Large Blue Dragon, Aspect of Nerull, Couatl, Gold Dragon, Ettin Skirmisher, and more!
Dimensions
0" H x 0" W x 0" D
Ship Weight
0.02 pounds
-
January 18, 2012
-- Elrond
These things are dangerous little (medium-sized) dragon kith that make a good challenge for mid-level characters. The design and paint on this mini are very impressive and it looks very cool. It is worth getting more than one of these since they are most effective when they can surround their prey.
Condition:
Miniature Missing Card
EVO Merchant:
Sparks Treasures
Fulfilled By:
TrollAndToad.Com