Zhent Soldier #60 Lords of Madness D&D Miniatures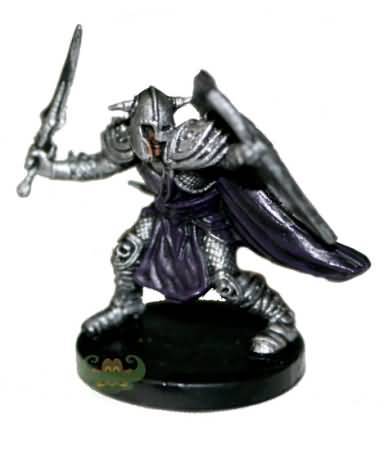 Condition:
Complete Miniature Including Card
Fulfilled By:
TrollAndToad.Com
| | |
| --- | --- |
| Rarity | Common |
| Set | Lords of Madness |
| Description | Lords of Madness Single Miniature |
| Dimensions | 1.5" H x 1" W x 1" D |
| Ship Weight | 0.02 pounds |
-
July 24, 2012
-- Jordan
these characters are awesome and well painted. all of them came in good condition and are just what i was expecting. words can not describe how great i feel about these characters. Just amazing and worth 5 stars.
-
January 21, 2012
-- R S
When I got my hands on this figure, I was blown away. The detail that went into the armor is incredible; small grooves and designs were all very noticeable, from the skulls on his knee-armor to the spikes on his shoulders. The position they gave this mini is also awesome. The raised shield, as if to block an incoming attack, is also nicely detailed and has a skull design with beams radiating from it. His dark purple tunic and cape also lend to the implied movement in the mini. WOTC really outdid themselves on this one; don't forget, this is just a common! This is Player-Character material without a doubt, for anyone with a chaotic or evil-aligned fighter or paladin. You can't go wrong with this amazing mini!
Condition:
Complete Miniature Including Card
Fulfilled By:
TrollAndToad.Com