Tiefling Blademaster #58 War Drums D&D Miniatures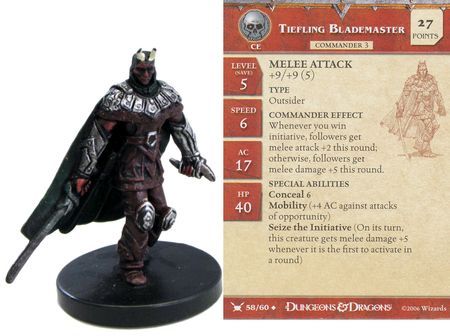 Condition:
Complete Miniature Including Card
Fulfilled By:
TrollAndToad.Com
Rarity
Uncommon
Description
War Drums Uncommon

Monsters and heroes face off on the miniatures battlefield! True to the head-to-head nature of the D&D Miniatures Game, the latest expansion set highlights miniatures against the backdrop of war. Per previous releases, the figures in the set are selected from key D&D roleplaying game titles such as Monster Manual, Monster Manual III, Miniatures Handbook, and the Eberron and Forgotten Realms campaign settings. The set also includes an elite group of figures that come with a second, epic-level stat card, allowing players to assemble higher-value armies with which to do battle. Look for popular figures such as Aspect of Hextor, Aspect of Moradin, Chimera, Hill Giant Chieftan, King Obould Many-Arrows, Orc Wardrummer, Snig Worg Rider, Warduke, War Troll, and Zakya Rakshasa!
Dimensions
1.5" H x 1" W x 1" D
Ship Weight
0.02 pounds
-
January 24, 2012
-- R S
The Tiefling Blademaster is without a doubt a PC style mini. Anyone playing a Tiefling warrior of some kind could definitely make use of this high-quality mini. The cape is a nice dark green and gives off a more refined appearance to the mini instead of a simply-armored warrior. The armor is also nicely detailed and painted appropriately; there were no mistakes on the one I have. The horns on this one I noticed are smaller and less obtrusive than ones on tiefling minis that came after; I'm not sure why exactly this is however I think it looks better. The iconic tail doesn't seem to be present either; again, this is not a downside in my book. Honestly, I'm so surprised that this mini is only around $2, due mostly to the fact that not only is it a beautiful, useful piece but because whenever I see this mini used it has always been in the hands of a PC. That alone attests to the quality that has been placed in this figure. Get one right away, you'll be very pleased!
Condition:
Complete Miniature Including Card
Fulfilled By:
TrollAndToad.Com