D&D Miniature Random Rare/Large/HUGE Miniature!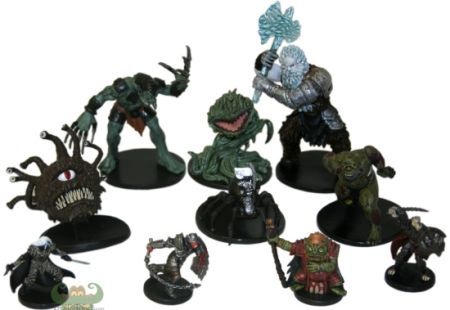 Condition:
Complete Miniature
Fulfilled By:
TrollAndToad.Com
Sell to Us $3.38
*
* The 'Sell to Us' price may reflect an added website credit bonus. Other buy list payment methods will not include this.
Rarity
Random Miniature
Description
Includes 1 Random Rare, Large or Huge Miniature.


Unlike our award winning Random Monsters, which contain all shapes/sizes of D&D Miniatures, these are only RARES or LARGE/HUGE Size Miniatures!
A sure fire way to boost your collection! Order yours today while they are still in stock!



Please Note that these miniatures may or may not include their stat card. Also, for orders of large quantities of these they may contain heavy duplication. And lastly, we do not take returns on this item, due to problems in the past with people ordering, picking out the best ones in the lot, and then returning the rest. That's simply not fair to our other customers.

Dimensions
2" H x 2" W x 2" D
Ship Weight
0.05 pounds
-
January 22, 2012
-- Anonymous
I ordered one and got lucky! A beautifully detailed Trihorn Behemoth (Huge size). Arrived in perfect condition and in a timely manner, highly recommend.
-
March 31, 2011
-- Christopher Burton
I ordered this random set of mini's to get a "start" on my large/huge collection. All I can say is that I was EXTREMELY pleased with the selection that I got from this purchase! Being a new D&D player I am glad that I found Troll and Toad - they will definitely continue to have my business in the future!
-
April 04, 2015
-- Sean
Verified Buyer
Very disapointed
After seeing the items people put into the reviews, I was quite disappointed when mine came. I ended up with a Devourer, a Bluespark Stormlizard, and a Blood Fiend. I am fine with the Devourer (about a $1 discount) but the other two are ones that retail for the same price as the random and one wasn''t even a large / huge.
-
February 07, 2011
-- matt Eveland
I order 10 and got 6 different chars, i received 3 of two types of chars and one of my other minis was broken, I would recommend buying singles, I had no issues with the singles that I bought
-
March 10, 2019
-- Rachel
Verified Buyer
Satisfied
I bought 5 and ended up with a Nightmare, Unicorn, Lion, Hippogriff, and Chasme Demon. I was hoping at least one would be huge sized, but overall am satisfied. I don't know if I'll buy again, however, because it seems like the price is comparable to if I picked out the minis individually, which would allow me to get exactly what I want.
-
January 30, 2011
-- Jaruen
I read all these other reviews and I was very excited for this option. But I was somewhat skeptical, so I ordered a nice round moderate number: 20. I was very happy at first, getting a Djinn Stormsword, a Chillfire Destroyer, and an Aboleth Slime Mage. Then, I got a second Djinn Stormsword, a second Chillfire Destroyer, and a second Aboleth Slime Mage. I got 4 Bladebearer Hobgoblims, 3 orc Sergeants, and 3 Sahuagin Rangers. Each came with their card, each was in good shape, but with all the reviews saying how there were few double-ups, I figured with an order of 20, I should have received better than only 8 different minis.
-
March 09, 2010
-- Denis Thiessen
from the 10 Miniatures i ordered, 9 were visibles from dangerous delves. and many duplicates out of those as well. 3 Aboleth slime mages etc.I am somewhat disappointed, especially if compared to the gorgeous 100 miniatures pack i ordered alongside.
-
January 28, 2011
-- Anonymous
this is apsolutely AWESOME!!!!!! I GOT WAY BETTER THINGS THAN I EVER THOUGHT POSSIBLE!!!!!! I really suggest this, especially with such a low price!!!!!
-
January 27, 2011
-- BOom
I ordered a bunch of these....Awesome assortment of everything I needed for my campaign....got some Rares, Larges, Promos & Huges. One of the Promo's I got was a $10 promo...!
-
January 27, 2011
-- Pawn
Ordered 12. No repeats. Two were awesome figures. Would purchase this product again.
-
January 21, 2011
-- k-dawg
I got a good variety of rares, large figs and promos up in this piece. while I'm here...let me speak on this.....odelay! ariba La Rasa!
-
January 13, 2011
-- Brian B
Just got mine today and they are sweet. I highly recommend them!! If you take away the fact the US Postal Service apparently still delivers by horse back, it was perfect.
-
September 23, 2010
-- Steven P.
I ordered 3 of these minis in conjunction with 7 of the smaller ones. My order shipped very quickly, approximately 2-3 days from the date of order. None were squished, no duplicates, all came with stat cards, all 3 were large/huge with 2 rares and 1 uncommon (Death Giant, Windfiend Fury, and Human Outrider). Thank you T&T.
-
August 28, 2010
-- Bob Mo
great product, loved all of them
-
July 28, 2010
-- Keven G.
I just received my order and I'm VERY happy with what I got! I got a Marilith, 2 Greenvise Vines, a Tiefling Necromancer, 2 Hobgoblin Hands of Bane, a Death Giant, a Skeletal Cyclops, a Sorrowsworn Reaper (which looks amazing!) and a Zombie Hulk. I don't know how rare these pieces are, but as a GM, I'm very pleased with what I got and the duplicates were great ones to duplicate! I'll be ordering more for sure, great deal!
-
April 30, 2010
-- DMGhaleon
I ordered 3 minis, And am very pleased both as a collector and DM, the collectors value of the pieces i got are worth around 2 or 3 times as much as i paid. It's also inspiring to my game reviving random mini's, much fun will be had. Great shipping time to :)
-
April 14, 2010
-- DMOth
I will definitely be purchasing more after 4 great minis. No other deal online like Troll and Toad's!
-
April 06, 2010
-- Andrew
I was blown away at how excellent this purchase was. Well worth the money.
-
March 15, 2010
-- Michael C.
My order shipped quickly, arrived timely, and contained no duplicates. I ordered 5 miniatures, and received a Bladerager Troll, a Skeletal Cyclops, an Aboleth Swamp Mage, a Frost Giant and a Hippogriff. A very nice variety for a very good price (if purchased individually, they would have been more expensive)! I do recommend taking advantage of this deal.
-
February 26, 2010
-- Kyle
Ordered 25, had 5 duplicates, but not complaining as they were all nice ones to duplicate, Storm Titan for example. A good mix, some large, some huge, a few medium. It was exactly what it says it is.
-
February 20, 2010
-- chris elliot
Ordered 4 and was very pleased. All were different and AWESOME! Thanks!
-
December 16, 2010
-- Kristopher
Im quite pleased with this item. I ordered two and received a Spell Weaver and Deva Fanatic. Both are as you promised rare figures though my only complaint is their both from the newer sets i was kind of hoping that they would be from an older set. Otherwise it was well worth the money.
-
July 08, 2010
-- Joseph B
Purchased 5, 2 were the same but all in all I like what I got: Graz'zt Savage Encounter 19/40, Marilith Savage Enc. 25/40 (x2), Bloodspike Behemoth Savage Enc. 5/40, Bullywug Mud Lord Savage Enc. 8/40.
-
February 23, 2010
-- Harli
I ordered 2, both are different uncommon large figures from the Savage Encounters set. Pretty good deal.
-
February 22, 2010
-- Abahjit Sandal
I ordered 8 of these miniatures and received them fast. I received mostly large minis and only 1 duplicate. My only complaint is that all the minis were from the newer sets and none from the older ones. With that said I still saved some money on almost all of the minis by buying them this way and would recommend this method to others who need minis.
-
March 14, 2011
-- Matt G.
Ordered 10, hoping that I would receive a "random" assortment, picking a small number. I got 4 Skalmad the Troll Kings, 3 Bladrager Trolls, and 3 other random huges. Not the most "random" at all, in my mind. Still, good speed and packed well.
-
January 13, 2011
-- John M Bowie III
Good selection, yet out of an order of 10 not one was a large. All were rares/promos. Not a complaint, just something that others ordering should be aware of.
-
March 15, 2010
-- John Miller
I ordered 10. All but one were from Dangerous Delves and 8 were visibles from that set. Only 1 was a rare, there were three of one, two sets of two and two singles.It was as described, however I was hoping there would be a bit better ratio between rares and larges, less duplicates, and I didn't expect them to be mostly from one set.
Condition:
Complete Miniature
Fulfilled By:
TrollAndToad.Com
Sell to Us $3.38
*
* The 'Sell to Us' price may reflect an added website credit bonus. Other buy list payment methods will not include this.