Darth Plagueis #6 Jedi Academy Star Wars Miniatures Very Rare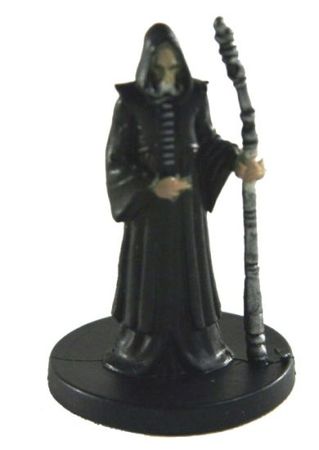 Condition:
Complete Miniature Including Card
Fulfilled By:
TrollAndToad.Com
| | |
| --- | --- |
| Rarity | Very Rare |
| Set | Jedi Academy |
| Description | Jedi Academy Single Miniature |
| Dimensions | 3" H x 1.5" W x 1.5" D |
| Ship Weight | 0.02 pounds |
-
March 25, 2012
-- Adam Harmon
While not being the greatest warrior of the game, he's a simple powerhouse when it comes to his force abilities. Especially since he is able to keep people from dying. And also able to harm people by corrupting them. What's not to like?
-
August 28, 2011
-- Anonymous
WOW, what a character. Darth Plagueis the Wise is Sideous' master that he mentioned in Episode III.So Plagueis is primarily a 'caster'. He doesn't even have double attack, but instead he had hugely pumped up force powers. Force corruption 3 replaces your turn to deal 30 damage to a living enemy and every living enemy adjacent to the enemy PLUS it corrupts all of them so that they need to make saves of 11 or else take the same damage again. And again. And. . . well, you get the point. Force Corruption 4 only replaces an attack and deals 40 damage and corrupts, but only hits one enemy. These are both expensive force powers, but that's why he has force renewal TWO.If an enemy beatstick DOES get close enough to hit him, he can try to block it with parry for free, and then if he fails reroll with one of his many force points.His main drawback is that shooters can take him out with relative ease, so keep him back and let him cast his force powers from cover since they are guaranteed hits anyhow. Also he has Essence of Life, so he can stop your characters from dying which is handy. Great character!
Condition:
Complete Miniature Including Card
Fulfilled By:
TrollAndToad.Com