Galactic Alliance Scout #31 Legacy of the Force Star Wars Miniatures Common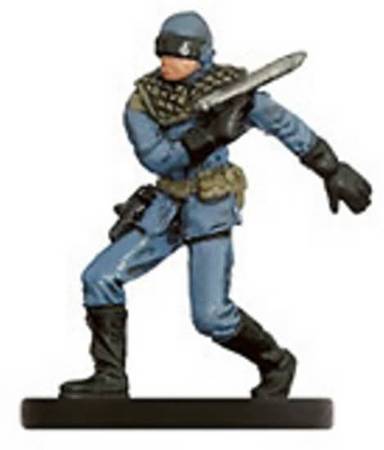 Condition:
Complete Miniature Including Card
Fulfilled By:
TrollAndToad.Com
Rarity
Common
Description
Legacy of the Force Common Single Miniature

A New Evil Grips the Galaxy

Generations after the death of Palpatine, new Sith Lords arise to challenge a resurgent Empire and destroy the last of the Jedi, but the legacy of the Force lives on. Dark side battles light side in an all-out struggle to control the galaxy and determine the fate of the Force. Help establish the Legacy of the Force in your own corner of the Star Wars universe!

. This 60 miniature set features characters from the Legacy comic book series as well as characters from across the entire Star Wars saga.
. By popular demand - more expanded universe than previous sets!
. Collect Cade Skywalker, Emperor Roan Fel, Darth Krayt, and more!
. Star Wars Miniatures make a great addition to any Star Wars Roleplaying Game campaign.
Dimensions
1.5" H x 1" W x 1" D
Ship Weight
0.02 pounds
-
April 22, 2010
-- Anonymous
Prodigious miniature! First off, he looks so cool, like he's running into battle. All right, let's get to the stats. Although he only has ten hit points, the scout can team up with a commander that increases defense, and he won't be hit easily. 5 attack isn't bad, and his ten damage isn't bad too. His 13 cost lies in his abilities; with Door Gimmick, he can designate a door he can see as open, so the enemy isn't safe hiding behind doors. Also, Sleath helps him to be able to shoot at enemies, when they can't shoot back. He is great when he combines fire; first, he has Spotter plus 20, so he gets an extra 20 damage against the target if they're within six squares. Lastly, Flanking Support can also lower an enemies defense for lower attack score characters when he combines fire. Whew!, I'm tired of typing!
Condition:
Complete Miniature Including Card
Fulfilled By:
TrollAndToad.Com