Pathfinder Battles: Beginner Box Heroes 4-Figure Starter Set WZK70428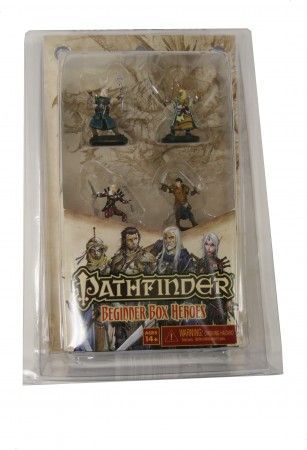 Condition:
Sealed Boxed Set
Fulfilled By:
TrollAndToad.Com
Barcode
634482704288
Description
Pathfinder Beginner Box Heroes Miniatures Set

---

This set of 4 exquisitely detailed pre-painted plastic miniatures is meant to complement the Pathfinder Roleplaying Game Beginner Box with all four of the featured pre-generated characters in the game.

---

Miniatures include:

Kyra, Female Human Cleric
Valeros, Male Human Fighter
Merisiel, Female Elf Rogue
Ezren, Male Human Wizard

These miniatures are made by Wizkids and are separate from the metal cast Reaper sculpts. All figures are on 1"-round bases and are fully compatible with the Pathfinder Roleplaying Game.

---

This description is provided by Paizo Publishing.
Dimensions
7.5" H x 4.5" W x 2.5" D
Ship Weight
0.225 pounds
-
March 01, 2012
-- ZDnDProject
Solid pack of heroes that can be used in any RPG. They are the standard size to be used with 1inch by inch gaming surfaces. Each heroes stands about 3cm tall and boosts some amazing detail. TrollandToad has the best price we found and shipping quick and the minis arrived without any damage.For a detailed review with HD pics please see our youtube review athttp://www.youtube.com/watch?v=517zQvhKy1w&context=C3eea444ADOEgsToPDskJDgBSPnMGBjRTWcm9lqE8o
-
February 25, 2012
-- Juliana
It arrived very well packed. The painting is way better than shown in the pictures ...The minis by itself seems to be more durable than we could expect for an average d&d mini and also pretty detailed. Its box could be smaller, that would make the shipping more affordable.
Condition:
Sealed Boxed Set
Fulfilled By:
TrollAndToad.Com