Star Wars Miniatures Game - Random Minis!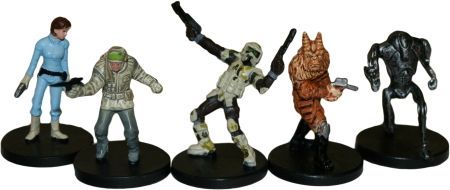 Rarity
Random Miniature
Description
NEW AT TROLL & TOAD! Star Wars - RANDOM MINI's!!!

We're overstocked on way too many of our Star Wars Miniatures... so we've got to blow 'em out! Miniatures will be pulled at random from our overstocked minis from all sets! Due to the random nature, duplicates are possible. Large orders may contain heavy duplication.

***These Random Star Wars Miniatures may or may not include their stat card. Although they will include it most of the time, we do not guarantee the stat card will be included with this item.***
Dimensions
2.25" H x 1.25" W x 1.25" D
Ship Weight
0.02 pounds
-
June 23, 2014
-- Ryan Ahr
Five stars, but only if you order in batches of ten. I got a great mix of minis and the order got a here a lot more quickly than I was expecting.
-
April 17, 2012
-- Blaine Holbrook
Great selection and no duplication!
-
July 27, 2011
-- borristherat
repeat order of 20 minis produced 1 v rare? and another 19 very good filler type characters including 3 large. very happy with order and would rate 10 out 5 if they let me.
-
March 08, 2011
-- larry
Great selection at a great price. I got a bunch of different miniatures from all different aspects from Star Wars. I even got a couple rares as well! Kudos!
-
January 27, 2011
-- King Poopy Face
Ordered 20 and got no repeats. Got a couple really cool figures too. Amazing deal!
-
December 23, 2010
-- JMack
I only purchased 11 models, just to add as a filler to my order, but I am glad I did! I may not have gotten anything tremendously good or anything, but I still got a nice little array of units to start my friend and me off with the game. Only got one set of duplicates which is ok...but actually I was hoping for more duplicates. Cant really expect much from just 11 guys though. Anyway, it was a great buy and I recommend it for anyone trying to start off with the game or need filler for an order.
-
July 05, 2008
-- Ian Rule
This is one of the best buys for Star Wars Miniatures I have ever seen. The mixture of these guys is simply incredible. For less than the cost of a case, you can get double or more of a case's worth of commons and uncommons, each with their card and almost always in new condition--a swarm player's dream come true. And not just the recent sets either--I've gotten lots of Clone Strike and Revenge of the Sith minis.And be on the lookout: there are rares--good rares--hiding in this stuff.
-
June 16, 2008
-- Kyle Morales
I made the purchase of 100 of these random miniatures and to my pleasent surprise, 106 miniatures were packaged in the box. I was shocked to find that the vast majority of these miniatures in addition to their stat cards were in the same condition, if not better, than those purchased straight from a starter or booster pack. Although many duplicates were in this set, I was in no condition to complain: the numerous duplicates were made indespenible with various commanders such as the Ithorian Commander and Rebel Leader. With these two commanders alone, my squad construction possibilites have reached infintie possibilites of strategy and play. For collectors, this is one buy you cannot overpass at only 35 cents a miniature. For serious miniatures gamers this is one way to reinforce your followers as well as find a few good commanders along the way. This product has more than exceeded my expectations and has earned my patronage and I am confident that no one will be disapointed in this one of a kind bargain. P.S. Needless to say My friends and I are going to make purchases from this wonderful offer.
-
February 25, 2008
-- Jeff
This is really a great buy. I bought 50 of them and only got a couple duplicates. They came from a wide range of expansions too. Great for assembling large amounts of minis to display, kit-bash, or even make crazy scenarios.
-
January 03, 2007
-- Josh Florance
The miniatures in these sets are not just ugnaught demolitionists and other 5 point characters like that, there are actually some very good characters that come with these sets. And all for only $10!
Very impressed with this order and I will be a repeat customer, before doing this review I ordered 20 more random miniatures, again very happy. The first order was for 18 randoms, I got 17 commons and 1 uncommon, and only 2 duplicates. It is what I expected from it and I am very pleased because of that. In case it makes a difference to any future customers of this company four of the miniatures had the larger bases and none of them were Starships.Thanks Troll and Toad.
-
June 30, 2011
-- borristherat
on the whole a good buy, some duplication, some v useful characters, some not so good and strangely a couple of starships? At $7 for 20 miniatures you cant go wrong. I have ordered more already.
-
December 07, 2010
-- Ryan
I can only speak from my experience from my order, but this deal was awesome! I ordered 50 of these for use with the Gamma World RPG, but also to check out the Star Wars line of miniatures. I received several different types of units, surprisingly like 6 or 7 Stormtroopers, and overall a really diverse group of minis for a really low price.I did find two miniatures (droids) that were bent pretty severely, but I'm pretty handy with reforming plastic miniatures, so it's not a big deal to me. Just be advised, a bulk shipment like this, you are bound to get some smooshed minis.
-
November 15, 2010
-- Mark Gacita
Great buy, and very diverse. Definitely recommend this if your getting lots for an army, or a starter.
-
November 04, 2010
-- Anonymous
this is a great deal i got a wide verity of miniatures for a low price. i will definatly buy this again.
-
May 27, 2010
-- Antony Hayes
I have mixed feelings towards what i got from this order. Me and a friend ordered 400 which turned up on time and in perfect condition. I cannot find any faults with the service however rather than receive 400 "random's" we received 16 bags each with the same 25 miniatures from the latest set. Out of 400 we were expecting a little more than 25 different types of character. However (and this is a big however) 8 of these were the dejarik beasts and the bag also included 4-5 uncommons. Overall the value of models we got was excellent! In total we got 128 dejarik beasts, not exactly very variable but its pretty damn fun seeing the expressions on our friends faces after they bought their sets of 8 for far more. So overall i'm very happy with the order and am looking forward to the next adventure that is buying randoms :D
-
December 13, 2009
-- Anonymous
Got mine (90 total)Pros Wow they were cheap! Just a fantastic deal. Pretty good selection. Surprised to see quite a few Clones, Sep Droids and Rebel Troopers Not a ton of duplicates, and many of the doubles were of more desirable figures (Utapaun Warriors represented my only "not another"). Did receive 3 of a couple figures though (Elite Hoth Trooper, Clone Trooper Pilot, Heavy Clone Trooper, Mon Calamari Knight and of course 4 of those Utapauns - that is 18% of my order right there) Wide range of sets for the most part, so didnt get stuck with overlaod of the sets I had more of to begin with. Did get about 30/90 Jedi Academy and Galaxy at War (around 15 each) but I didnt have many of these newer sets so worked for me. The other 60 were very wide spread.Cons Was a little disappointed in the shape of the cards. Many were curved and even a couple had creases. Not horrible and it wasnt of the utmost importance, but it even looks like it was more from the packaging after they were pulled (they were pretty tightly fit into bags of 25) Got a figure without a card. Pretty bummed about that. 1 Sith, 4 Vong, 2 New Republic, 2 Imperial, 1 Mandalorian. Needless to say, I got a couple boat loads of Fringe to go with my handfuls of Rebs, Repubs and Seps - yet still only one Ewok :(Oh, and got only my 90 - but also ordered when they were cheaper so saving a few cents each is more then worth getting only what I paid for :) Overall, happy with order. Had also ordered two inexpensive Rares with these, so ended up with 2 rares and 90 C/U minis for about the price of 2 boosters! That's like buying two boosters only to find out you were the lucky one that got an extra 78 Minis included in the packs!
-
March 29, 2009
-- franky/noah
We got four of the same miniatures but also got some really awsome ones to, i bought 30 and have only a couple duplicates
-
February 22, 2008
-- SPC Strickler
The reviews for this product are absolutely correct. I only want to use the miniatures for RPG purposes, so since I recieved alot of doubles I am actually pleased. As for the randomness of these miniatures, it is fair to say that if you order a bunch, you will at least get one of the miniatures you are looking for. This product lived up to it's reputation, and I am happy to say that I am satisfied with my order.
-
February 02, 2011
-- Anonymous
Great price, I bought 25 of these for use in my Gamma World RPG. Only problem I had was that I got too many large creatures and dupes of those large creatures which will be hard to utilize. Just wish I would have gotten more regular sized minis...even if they were dupes too! Of my 25, 13 of them were normal sized and then the rest were all large creatures...only got 3 different large creatures too so was heavy on dupes for the big guys...will prolly just get a set of normal minis next time even if the price is a little higher...STILL A GREAT DEAL!!!
-
January 07, 2011
-- Steven
Generous for giving me an extra four units when I purchased twelve. I was going through mixed emotions, the figures were in good condition, only two bent from packaging. Cards were in pretty bad conditions, none were good as new (except for one card, which randomly got the special case when it wasn't rare or very rare). Getting this deal is a good way to boost your collection and truly, building an army. Will I be buying it again? Of course! Great deal, getting a bang out of your buck. Wish cards were in better condition though...
-
July 12, 2010
-- Scott Jakubowski
Lots of miniatures for the price. LOTS OF DUPLICATES. And the duplicates were not exactly the most useful types to have duplicates of. For example, If I had gotten a bunch of stormtroopers, that would be great, but instead, I got 10 Aqaulish Spies out of a total order of 100 minis. In an order of 100, I got only 24 unique figures. That's not great if you ask me. I had 9 different miniatures that were repeated at least 7 times. To be fair, the website does say to expect duplication, but I think they could do better. Also, it looks like I got 2 uncommons, the rest were commons. So, it's not a bad deal, but don't expect anything awesome. I would recommend this purchase if you're just starting out. If you need specifics, look elsewhere.
-
May 07, 2010
-- Rikeen Patel
Good deal- bad picks. This is great if you're looking for quantity, as I was, but it is in no way a means to acquire the stronger, rarer, or even more recognizable characters. If you're looking for figurines of people you recognize from the movies - buy booster packs. This is good for getting generic figures to give away or construct armies.
-
June 04, 2007
-- BIG $$$ spender
not really good to be buying a bunch cuz ull get doubles of all the people u already have so u end up wit 50 of teh same people and 1 of the really good ones but get good people
-
April 05, 2011
-- Joshua
I bought 40 of these randoms, and got only 20 different figures. including 6 of one, 4 of another, and 2 of several...
I am of exceedingly mixed reviews about this product. On the one hand, you won't find Star Wars miniatures for this price anywhere else, regardless of what they are. On the other...It's possible I got a bad order, also. I ordered 55 figures - only eight figures were unduplicated. I received nine (9!!) Duros Scouts! I also got four or more of the Chiss Mercenaries, Antarian Scouts, Bespin Guards, and Sith Operatives. Come on guys.... really?I will most likely order again at some point in the future in hopes that this order was merely a fluke, but if another comes like this, I'm through.
-
August 03, 2012
-- Shane
I ordered 30 minis and got 18 super battle droids. . 13 of one pose and 5 of another. They are identical except for arm placement. . this to me is basically 60 percent of my order as one mini. . not impressed. The last order was not so bad so I might be willing to try again because the price is right but I will only be ordering is lots of 10.
-
September 22, 2010
-- Shawn
I also have mixed feelings about the product. Yes, it was very inexpensive, and I know I was to expect duplicates, but out of the 100 I purchased, I only had 10 different minis. I had 6 unique ones, (one of which had two duplicates in the box) and the other 92 were a varying amount of 4 different minis. In fact I got almost 30 Rebel Troopers. Now, if I were purchasing this to build armies, it would have been great, but for those of you running an rpg, this may not be for you.
-
June 20, 2007
-- anonymous slanderous user
Thank You, What a buy. Completed my army and had a fair share of collectibles left over. Thank you, thank you