Star Wars Value Lot of 25 Random Miniatures!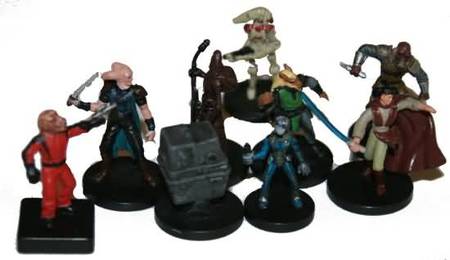 Condition:
Miniatures Lot
Fulfilled By:
TrollAndToad.Com
Description
Adding to your collection? Sending a gift to that Star Wars fanatic? This is the Lot for you! This lot contains 25 random miniatures!

*Miniatures can be from any set and light duplication is possible! Expect duplication when you order multiple lots! Miniatures may or may not include cards.
Dimensions
4" H x 3" W x 3" D
Ship Weight
0.25 pounds
-
October 28, 2009
-- Brian
I was quite pleased with the set when I opened them up. There were a good number of minis that will round out my Star Wars pen and paper game. Excluding the Battle Droid, the picture was actually accurate.When I opened the second set I had ordered I was a little less than pleased. The second set was 100% identical to the first. While still good minis I would have preferred a different grouping.Over all, I'm pretty satisfied but ordering two was probably a mistake.
-
March 14, 2012
-- William Sharpe
Good mix of figures, but no bonus huge/rare figure in my lot. Would have rated it higher but for missing the bonus figure.
-
April 05, 2011
-- Anonymous
Good mix of figures but I bought three packs and revieved no huge and only 1 rare total out of the three packs
Condition:
Miniatures Lot
Fulfilled By:
TrollAndToad.Com