Star Wars Pocketmodel Game Pack (WizKids)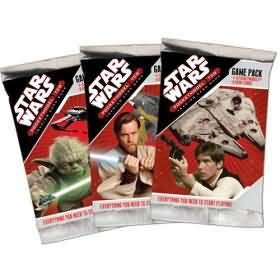 Condition:
Sealed Booster Pack
Fulfilled By:
TrollAndToad.Com
Description
From Wizkids, the award-winning publishers of Mage Knight and HeroClix, comes the exciting and unique Star Wars PocketModel TCG. Featuring characters, scenes and ships from each chapter in the 6-movie epic, Star Wars PocketModels combines the gameplay style of a traditional CCG with eye-catching 3D models that you put together! Use strategic maneuvers as you attempt to destroy enemy objectives! Lead the rebellion to a successful overthrow of the opressive Empire, or crush the Rebel Alliance as you bring the galaxy under your rule.

Star Wars PocketModels comes packaged in booster packs containing up to eight polystyrene models - 24 booster packs per box. Additionally, a Power-Up pack is available, featuring exclusive cards and models, dice, and a strategy guide.
Dimensions
6" H x 4" W x 0.25" D
Ship Weight
0.5 pounds
-
October 29, 2007
-- Shrack
Great and simple game. No real learning curve and fairly easy to collect. If you play this game a lot, your models will break eventually (as they are fairly flimsy) (my only complaint), so you might want to consider getting the WotC Star Wars Starship models (also sold by Troll & Toad) and use those using the stats/cards/rules from this game.
-
June 23, 2007
-- Briggs
Star Wars Pocket Model is an interesting game, it's a lot like a normal ccg, but in place of characters there are miniatures!
Condition:
Sealed Booster Pack
Fulfilled By:
TrollAndToad.Com