Hobgoblin Archer #32 War Drums D&D Miniatures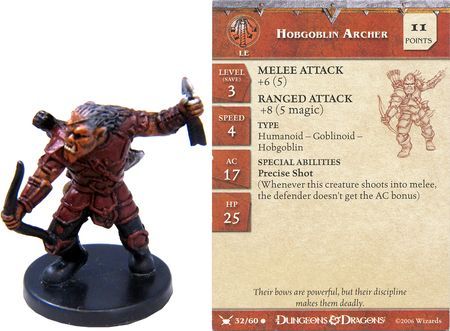 Condition:
Miniature Missing Card
EVO Merchant:
Black Cat Games and Media
Fulfilled By:
TrollAndToad.Com
Rarity
Common
Description
War Drums Common

Monsters and heroes face off on the miniatures battlefield! True to the head-to-head nature of the D&D Miniatures Game, the latest expansion set highlights miniatures against the backdrop of war. Per previous releases, the figures in the set are selected from key D&D roleplaying game titles such as Monster Manual, Monster Manual III, Miniatures Handbook, and the Eberron and Forgotten Realms campaign settings. The set also includes an elite group of figures that come with a second, epic-level stat card, allowing players to assemble higher-value armies with which to do battle. Look for popular figures such as Aspect of Hextor, Aspect of Moradin, Chimera, Hill Giant Chieftan, King Obould Many-Arrows, Orc Wardrummer, Snig Worg Rider, Warduke, War Troll, and Zakya Rakshasa!
Dimensions
0" H x 0" W x 0" D
Ship Weight
0.02 pounds
-
November 08, 2011
-- Jacob
It is bigger than all other hobgoblins other that hobgoblin bladebearer. Both are nice minis they just look akward when beside a hobgoblin marshal. The paint and sculpt are good IN MY EYESIf looking for a hobgoblin to start with go with the hobgoblin marshal.I have 8 of these and I'm happy to have them aboard. I like the mini.You can come-up with a half-oni hobgoblin template for these for fun. Archer aswell as bladebearer look the part.
Compared to the other Hobgoblin miniatures, this one just seems a little out of place. He stands in a strange not battle ready pose and the arrow in his offhand just looks silly. The ones I do have are well painted however and are still a good pick for the price.
-
October 16, 2011
-- Elrond
I think the hobgoblins are generally great, and there are a lot of different figures to choose from. But this one is not very well-done. The detail is pretty good and I like the pose - moving into position and pulling out an arrow to fire. But the paint job is rather simple and there is something awkward about the way he is stepping. The arrow just looks absurd. Pretty good, but not compared to some of the other hobgoblins.
Condition:
Miniature Missing Card
EVO Merchant:
Black Cat Games and Media
Fulfilled By:
TrollAndToad.Com