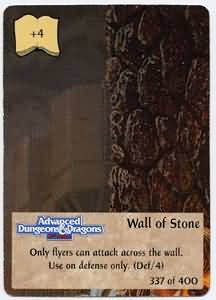 Condition:
Near Mint Spellfire Card
Fulfilled By:
TrollAndToad.Com
| | |
| --- | --- |
| Card Text | Only flyers can attack across this wall. Use on defense only. (Def/4) |
| Description | 337 of 400 |
| Dimensions | 3.5" H x 2.5" W x 0.001" D |
| Ship Weight | 0.004 pounds |
-
February 10, 2005
-- boris chiu
The most goooooooooooooooooooood wall!
-
July 10, 2004
-- kenny dubois
cool card and very good 2 and its hard 2 beat 0/8
this card in my first eva pack sum 7years ago (im 15btw) and still usin it. it my lifeline man in my red/green deck,add a frog tonge and a blanchwood armor and you got a 5/13 wall blockin things with flying and then draw venom and you got an unstoppable defense
-
April 18, 2007
-- Ronald .Y
Its a great wall card. Ive never heard of another Red Wall card with a 0/8. Whats really great is when you pull more then one of them.
-
February 24, 2005
-- Anonymous
i've always been more defensive than an offensive state of mind. heh. anyway, over the years i've had to fight the tendency to have an answer for everything my deck might face and try to make my opponent answer MY questions(or threats if you will). back in the beginnings of my play experience i used to play red and black almost exclusively. and i would return again and again to this card because it could basically block anything. at least in the local environment i was playing. then i would get frustrated with it not working out and abandon it. but i would return to it several times, with little better results. eventually, i became a bit better and moved on to other cards and themes, but i still remember this with fondness. still enjoy looking at the art too, especially the darker tints and colors of this 'beta' version................
Condition:
Near Mint Spellfire Card
Fulfilled By:
TrollAndToad.Com