Dragon Shield Blue 100ct Standard Sized Sleeves (AT-10003)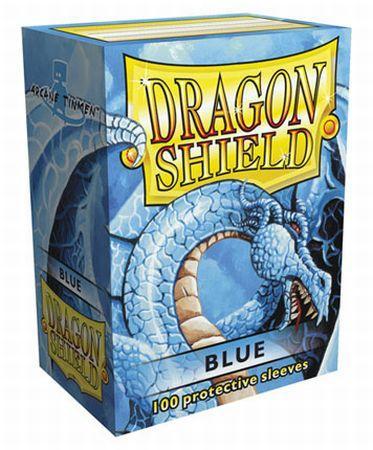 Condition:
Pack Of Sleeves
Fulfilled By:
TrollAndToad.Com
Barcode
5706569100032
Description
Dragon Shield Blue 100ct Standard Sized Sleeves
Dragon Shield sleeves are designed to protect your gaming cards against the wear and tear of play use. Dragon Shield are tough polypropylene sleeves made to fit both casual and competitive play.


Every box has a printed label for labeling your favorite decks.
All boxes are made of sturdy cardboard with original dragon artwork.
All sleeves are completely PVC free.
The box design fits 75+ gaming cards including sleeves for easy storage of your decks.
100 sleeves per box.

*Description provided by the Manufacturer*
Dimensions
3.75" H x 2.75" W x 2.5" D
Ship Weight
0.25 pounds
-
August 23, 2013
-- Bradley
These sleeves are some of the best I have ever used. I use them for MTG cards as well as WoW TCG and they work great. They are a little more money than some other brands such as Ultra Pro but in my opinion they are well worth the extra cost. I was having issues with the UP brand splitting on the sides and top edge and with these I'm not having nearly the same amount of issues. It does happen but not as frequently. Anyway thats my 2 cents. I use the black ones and my wife prefers the pink ones they both look quite nice. I believe in the future im going to buy sleeves and color code my cards.And if you dont want to spend the extra money for this brand UP works well too but beware of the side splitting.
-
December 07, 2010
-- Joey
These are amazing! I've been playing card games for almost 9 years now, and I have yet to find sleeves better than Dragon Shield.
-
October 22, 2006
-- Anonymous
Amazing card sleeves , best ever !!! they rock
-
November 13, 2004
-- Meg
Dragon Shields are the best sleeves for your cards. Don't disgrace your Magic cards by putting them in anything else or nothing at all. Buy them here, because at local card shops where I am at, they sell for $10. Great value. Great price.
Condition:
Pack Of Sleeves
Fulfilled By:
TrollAndToad.Com