Random Pack of Standard Sized Sleeves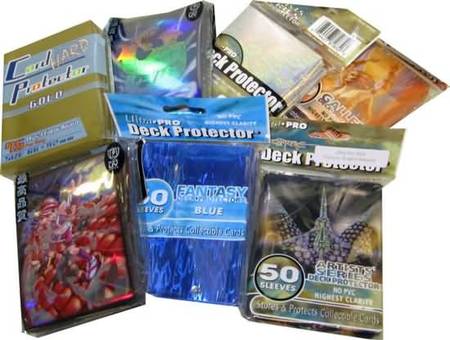 Condition:
Pack Of Sleeves
Fulfilled By:
TrollAndToad.Com
Rarity
Random Sleeves
Description
Need Sleeves?
We have tons of sleeves!

These sleeves are all sized for standard cards (Magic: The Gathering Cards), and are a quick, cheap, and easy solution to all your card protector needs!

Oh yeah, and they are the cheapest sleeves in the world!
Dimensions
3.75" H x 2.75" W x 0.5" D
Ship Weight
0.118 pounds
-
March 15, 2012
-- Anonymous
I have bought these twice now, specifying that I wanted matched sets of 2 packs to sleeve 100 card casual EDH/Commander decks. The first order was for like 20 packs, and the second was for 16. I asked for a few separate colors and designs as possible. The first order I got all the same brand metallic sleeves in 3 different colors, and this time I got the same brand metallic sleeves in 3 colors, and 1 metallic design. These are highly reflective so they would not be good for tournaments, but I specified I wanted these for casual and these were perfect. They work great and I have used the first order for a long time now, which is why I bought the second order.

The product is awesome for 1 dollar, and so long as you leave a comment, they will do their best to accommodate within reason. I am amazed that for "random packs" they gave me what I wanted!!! Amazing customer service!!!
-
July 16, 2015
-- Anonymous
Good for the price
Same holographic sleeves as the other two reviews got, I was pleased that if you buy two they get you two of the same color. The sleeves themselves are not very tough, and the tops are uneven, but I bought them for kids to use so that is totally fine. The kids LOVE the designs. The price is very fair and I will buy more for sure.
-
September 24, 2014
-- Tubby, King of the Potatoes
Verified Buyer
Good
I ordered 2 of these as a means to sleeve some lesser value rares that I still didn''t want to get messed up. I got 2 blue metallic-y sleeves with a hologram design like one of the other reviews. Not the highest quality sleeves, but overall for $3.00, a great deal.
-
June 27, 2013
-- Anne Spicklemire
I ordered 10 packs and I received all legends sleeves with a metallic shiny hologram design. I got 2 green, 2 orange, 2 red, 2 silver and 2 blue. Good deal
-
April 09, 2012
-- Anonymous
Thanks Troll and Toad for the amazing deal. I ordered 20 packs of random sleeves several months ago, and simply requested that they send them in multiples of two for deck sleeving. I received all legends sleeves with the metallic shiny hologram design mentioned in several other reviews. They arrived quickly. I had 2 green, 2 orange, 2 red, 6 silver and 8 purple. Last week I placed my 2nd order of 20 random packs of sleeves. This time in my order I requested that they exclude any silver and purple since my last order had so many of those colors. This go around I received 4 red, 4 green, 4 orange, 4 blue, 2 Ultra Pro metallic with a warrior art image on the back and 2 Ultra Pro black with minotaur warrior graphic on the back. Once again, thanks for considering my request on colors! Now, I'm a casual player, and will never play in a tournament, so the shiny nature of the sleeves don't bother me. Frankly I'd use 100% black matte sleeves of some kind on every deck I own if money was no object. Regarding functionality, I think they work great. They shuffle easily, they don't break from useage and most importantly they protect my cards, these things are just amazing for the price! I have to agree with some other reviewers. On both orders a few of the packs were a little off. Some have a little clear plastic hanging off the bottom, some have a little too much glue on the edge (i.e. not a super clean smooth edge) and some are unevenly cut regarding height. Even the sleeves with the issues I described are 100% usable and function well. The only issue is that your sleeved deck isn't as uniform feeling in your hand as you might like. As others suggested, if it's in your budget, buy a few extra packs to account for anything you may dislike. Also, if your budget allows for it, buy more than what you need right now for saving for later, you'll save a little on shipping and have a nice stockpile for later use. I hope this review helped and thanks again T&T.
-
March 15, 2012
-- Caleb T
Worked great. Got 30 packs for $30. Received 6 each of 4 different colors and also 6 of a pattern. And it only took 4 days. I'd definitely buy again.
-
February 23, 2012
-- Kelly
Thank you. :)
I ordered ten sleeve packs, they were all the same, which is great, and I love the color.
-
March 10, 2011
-- Francisco Rosario
I ordered 30 packs along with a total of 10,000 Magic cards from the random lots, and was expecting the majority of them to be YGO size. Since I play both, it wouldn't have been so bad, but I was hoping I'd get some Magic sleeves since I already have a great deal of YGO size sleeves. Evidently someone at trollandtoad loves me, because all 30 sleeves were Magic size, exactly what I needed! Thx so much Trollandtoad.
The sleeves I recieved were the cheap Legends sleeves in all 6 colors, multiples of each, perfect for sideboards. For the price, how can you possibly complain? Some people obviously have no idea that you are paying $1 for a random pack of sleeves. If you had your heart set on a certain type of sleeve, why not pay the price for it?
Thx again, trollandtoad, I only joined back in Janurary and I can tell you now I will be a constant returning customer!
-
February 22, 2011
-- Lauren Kuklis
I ordered ten and asked for five doubled sets if possible in my order comments, and got exactly that, in a rainbow of shiny holo-design. I love bright colors, so that was right up my alley. A pair of 100-packs in the order would have been even more exciting, but I'm pleased as punch, regardless. :)
I ordered 3 and got 3 100 sleeve packs.
-
June 01, 2009
-- Wes Olsen
Thought i realized that it was risky, i ordered 3. i've been getting stuff here for awhile and have always gotten the best treatment. i assumed that i might get one or 2 of the min of 50, but i trusted that i'd get atleast one bunch of more then that. well, i was wrong. if you buy one of these, assume that it says.. "you will get 50".
-
June 21, 2017
-- sal
Verified Buyer
-
December 24, 2016
-- Deon
Verified Buyer
nice sleeves
purchased 20 packs, requested that they be in pairs if possible and as many different colours as available. received the holographic sleeves mentioned in other reviews. 4 silver, 4 blue, 4 green, 2 red, 2 purple and 4 orange. very happy with these sleeves, they should help me keep a few of my decks in a better order
-
May 25, 2013
-- Colby Debach-Riley
Love it, exactly as the comments before me describe, totally fair, totally worth the money, and receptive to requests to boot! Definitely a great buy for those with lots of decks to sleeve!
-
January 25, 2013
-- Chris Hildreth
I bought 2 packs of random sleeves and a random deck box with my normal order, in the comments I only asked for two of the same color for deck building. Not only did they do that, the random colors they picked matched my regular ordet as well (i ordered a purple deck box, got purple sleeved and another purple deck box!)

The order came quickly for USPS standard delivery and was perfectly everything i wanted. I will order all my supplies from here now.

Thanks T&T!
-
October 05, 2011
-- Nick Conroy
Absolutely, you can't beat the price for sleeves.
I asked for all purple and got it, roughly 20% of the sleeves I received were defective, but I still received enough to case 8 decks.
Don't order this if you want tournament legal sleeves, don't expect anything good if you don't leave comments on your order to your preferences for colors or doubles on 50 packs.
-
July 23, 2011
-- James Scott
I ordered 12 at 75 cents each. They were all Legends metallic/shiny packs of 50 solid color. I asked for duplicates of two and got 3 red, 1 silver, 2 green, 2 blue, 2 orange, 2 purple. They are pretty durable as far as i can tell (only played with them for 1 night. They sometimes have a little glue along the edges but nothing major as it can be peeled off easily.

Non were bent as in other comments.

I don't think i can use them in drafts because they are shiny (will try anyways) but it's definitely an amazing price when starting out magic without sleeves.
-
March 28, 2011
-- Renato
I loved it: bought 20 packs and got them just perfect. All have 50 sleeves each. They came basically in 5 different colors and all but one had more than two packs. Sure gonna buy some more on my next shipment.
-
February 10, 2011
-- Joseph Correa
These sleeves are perfect for casual play. I even asked politely to get matching packs to sleeve some EDH commander decks and they were able to do it. I ordered 20 packs and got 2-3 packs of 6 different colors of holo sleeves (some slightly bent, but nothing a book wont fix to flatten out) This is a super deal for the cost.
-
January 04, 2011
-- Amber
i ordere 10 before...put n comments needed at least 2 of each color cuz of 60 card decks..i got 3 orange 3 blue 3 purple and 1 silverish color.....i wwas very happy with these....i had ordered 1000 of the clear ones from somewhere else but am very unhappy with those...i just ordered 40 more of these...will post after i get them....im overall very happy with my experiences with these guys....eveb over the phone....only had one person that wasnt as helpful as culd of been but i wont hold my experience against them for that one time... enjoy ur games!
-
November 15, 2010
-- Benjamen
For the value you can't really go wrong, the only problem is they only come in packs of 50 when a deck is 60 cards, but just order a bunch since they are cheap and hope you get some of the same :)
-
October 20, 2010
-- Paulette A
This is my second time ordering these sleeves. The price is awesome and got 50 count metallic sleeves in assorted colors.
-
October 16, 2010
-- Ted
i never write these but since there doesn't seem to be much consensus among the reviews, i will give my experience. i bought 12 and requested in the comments section that i wanted matching sleeve packs if possible to sleeve 60 card decks and received 50 card sleeve packs in sets of 4x, 4x, 2x, and 2x. none of them were penny sleeves, and they are very reasonable for what i paid. if i ever need to buy sleeves again, i will order more of these. :)
-
June 21, 2010
-- Nathan
I ordered 10 random packs of sleeves. I read the previous reviews and was thinking, "ok, I will get mostly oddball 50 packs that I can use for draft decks". I did get all 50 packs but I got 4 sets of 2 and only 2 oddball packs. As far as brands I got 4 packs of dek prot, 2 max protection, and 4 ultra pro packs. Even the cheapo dek prot sleeves are almost double the random sleeve price per pack so I am very happy with my purchase.
-
April 29, 2010
-- Andrew Bean
Really cool deal. I ordered 5 and all 5 were Ultra-Pro. Nice stuff
-
January 30, 2010
-- stephen
I order 16 packs of these for my brother and I for Christmas. I think we got lucky but all 16 packs were 100 count cardway sleeves! It was a tremendous surprise and now we won't have to worry about sleeves for our magic decks for a very long time! Thanks TrollandToad!
-
December 03, 2009
-- Thran
Amazing buy for atleast me. Ordered 10 packs and all were mono colors red/blue/black/gold of 100ct each. Very happy with this buy.
-
November 16, 2009
-- Nate Simpson
I have come back 3 times to buy these sleeves. These are bar none the best deal on sleeves ever sold. TrollandToad is the only place I get my game fix.
Cheaper than anywhere else. I bought 5 packs and got a different pack each time, including a 100 ct pack. Ordering 3 doesn't mean you will get a different count because well, Look how many they have available!!!
-
September 29, 2018
-- Robert Anderson
Verified Buyer
Satisfied
I got 12 packs and was suprisingly satisfied with the quality for the price they are. I got a variety of all colored holographic ones. I was hoping for at least a few art ones, since the picture shows quite a few. Hopefully I can get a few next time.
-
April 03, 2012
-- Malissa
ordered 10 & asked for paired colors: got 4 silver, 4 green, 2 purple. I am happy with them, except one pack of silver had sleeves that were shorter then the rest so the cards almost pop out of the top when loaded. overall satisfied & can't beat the price, sleeved 7 decks for $10!!!
-
March 15, 2012
-- Mike Brown
I asked for mostly blue sleeves, and a pack of green or red sleeves. I got all blue sleeves. I am happy with that. They are not terrible quality, and were pretty inexpensive. The reason why I post a comment is that I am back looking to buy more of them (as they were a good deal)

Just don't expect to get exactly what you ask for. :)
-
January 26, 2012
-- Dustin
So I ordered these twice. First time I order 6 packs and I got a really great deal because the employee ( or whoever) gave me two of each color! 100 orange, 100 blue, and a 100 green. I was pretty happy when I saw that! So I figured I should try my luck again. This time I went for 10, hoping for 5 sets of different colors. Instead I got all green. All 10 packs of sleeves were green. So I have 500 more green sleeves! O joy....

Overall a great deal. Just hope you get a good person setting up your order!
-
September 27, 2011
-- daniel
I bought 10 packs, got 10 50 count legends metallic.
They're not good quality, they're not tournament legal, but they are 75 cents.
You get what you pay for, and the price is really unbeatable.
-
September 05, 2011
-- Michael
I order five of them to see what I could get, I got so so at best sleeves with the five I order. But that dose not mean I'm not happy with the order after all they are only $0.75 each so I plan to use them for drafts.
Ordered 15, got 11 of these packs (I got a bonus in M:TG cards instead), 50 sleeves each, holo-background. Asked for dupes, got 3pack*1color, 2p*3c, 1p*2color. Some were curled in their package, but they straighten up as soon as they have a card in them or are in a deck box. Awesome price, Great quality, and they get the job done! Thanks T&T!
-
April 20, 2011
-- Jesse
got four differant colors all 50 packs but holografic :) can't beat the price plan on buying lots more
-
March 31, 2011
-- Jay Hajj
Ordered 8 and included a note in the order to provide matched pairs if possible. I received all 50 packs of Legends Card Protectors. 6 out of the 8 were matching sets, 2 purple and 4 black/silver and they may have tried for all, but the last two were red and dark orange. I had to double-take to check myself. They have a neat holographic/metallic design on the back. I also purchased some Ultra'ÄĘPRO sleeves and, in comparison, they are not as pretty, but I prefer them due to being slightly thicker and having textured backs that are less prone to stick together and not show scratches as easily. I only have just received both types so can't compare their durability.
-
March 30, 2011
-- Preston Wiley
The sleeves pretty much suck, but they are only 99 cents. Every set that I got was a 50 sleeve set, so, for Magic you will hope to get multiples of the same color. I ordered them 6 at a time and usually got a mixture of 2-3 colors. Some of the sleeves have flaws and oddities about them and you have to toss some out, but the cost makes them worth the purchase. I'm not into paying $10 for a set of sleeves.
-
February 10, 2011
-- Mr Pendent
Really should be 3.5 stars, but I'm giving T&T the benefit of the extra star because they're awesome otherwise.

Because another reviewer reported that some packs were bent, I ordered 10 to be sure that if some were bent or defective, I could just toss them.

I have 2 minor complaints: 1--all of mine are in packs of 50. Since a deck is at least 60, that is a problem. I got two packs of 3 colors which is perfect, but only 1 pack of the others. Still, no biggie.

2. My second complaint is also minor--they are all metallic/hologrammy. Since the fronts are NOT holograms, I don't really care. Card protection for less than a buck.

So order 2-3 times more than you need, to be sure you get at least 60 of a color. Or just order specific ones and pay a lot more. :) Either way, everybody wins.
-
January 27, 2011
-- Anonymous
You can't beat the price for these. I ordered 10 of these and requested to have enough of the same colored sleeve to make 60 card decks with a 15 card sideboard. I recieved 2 blue 2 orange 2 purple 2 green and 2 red 50ct sleeves with all the same holofoil design. They all were slightly bent, some more than others but all should do fine for causal play. I wouldnt recommend these for tournament play on account of the condition, but for causal play you simply cant beat the price. Fully sleeving a deck for under 2 bucks is a steal! I look forward to getting more of these in the future to see what i snag next time!
-
October 26, 2010
-- Matt Derry
Just got mine in yesterday.... Ordered 10 packs and listed in the comments section that I needed matching sets for 60 card decks. I got 5 matching colors, 2 packs each. The only problem I had was that one of the packs was cut to fit smaller cards than Magic. Still, 450 usable sleeves for that price CANNOT be beat! Plan or ordering a few more next time as well......
-
August 04, 2010
-- Dave M
I have ordered a combined 48 packs of these sleeves, and I must say I am quite pleased. T&T is very good at giving you at least 2 of the same sleeves when you order in bulk like I have.

The first order of 20, I received 2 packs that didn't have a matching pair (which is useless for a deck of 60 cards:MTG). No big deal and I was still happy.

The second order (28) I received only 1 package that didn't have a match. Overall they sent me sets of 3 matching packs for 7 patterns 2 matching packs 3 packs of penny sleeves and 1 odd ball yellow pack. The only reason I don't give them 5 stars is because in the second order they sent me those 3 packs of penny sleeves (the clear soft sleeves) and I didn't realize that it was a possibility (I use these sleeves to play with and you can't shuffle with those soft sleeves). Overall I am still pleased.
-
December 30, 2009
-- Garret Castle
Well I got 1 pack in an earlier order and got a nice cardway 100 red sleeves. So I ordered 6 more later, expecting to get some 50 count sleeves, but got all 50 count sleeves. While I expected to get 50 card sleeves (to use with the under 50 card starter sets), I hoped for some more 100 card packs. Still, itís a good deal on sleeves, as long as you plan to get 50 count.
-
November 04, 2009
-- jabba
i ordered 5 pack of sleeves and received exactlly what i wanted they came with 50 sleeves each perect for naruto and i just bought 10 more hope i didnt mess up
-
June 18, 2009
-- C. Moore
I ordered 5 for me and my brother ordered 1, we received no duplicates which is always good, and although each only contained 50 as someone else mentioned in a Review, I got 6 different, cool packages of sleeves at a great price.
-
August 01, 2011
-- Randy Row
It is a great buy. A friend and i split an order of 14 packs. We got 5 Orange 1 Red 1 Blue 6 Grey and 1 Purple. I dont care that they were all the same holographic design.
But it is a very good buy.
-
March 02, 2011
-- Gary Peter
I purchased 35. All were Legends Supplies, With Shiny/Foil-looking backs. None had art, all were packs of 50. I was happy that they (mostly) came in pairs (or more) so that I was not stuck with singletons of 50 packs. However, all are the same. Furthermore, the Legends Supplies sleeves have fringe in the bottom seal (making them "marked"), and are all shiny (so are "distracting"), so none of them are tournament legal.

Am I disappointed? Not really. They were cheap, undamaged and none were penny sleeves. I can trade them, or use them for EDH.

Am I happy I did it? Again not really. Except for a minor variation of color all were the same, and none were tournament legal, rendering my plan to have a bunch of sleeves sitting around for tournaments, moot.

Will I do it again? No. Not with sleeves. This is a way for T&T to empty their warehouse. THIS IS NOT RANDOM. It improbable/bordering on impossible for a randomizing computer to select all of the same type of sleeves with this sample size. You WILL NOT get a random selection of everything on the site, only a semi-random selection of the items they have over-stocked.
-
November 20, 2010
-- Jerry
I had my reserves about these but ordered six anyway. Tried asking for pairings in the comments section as some others have suggested, still ended up with all different colors. Probably won't try it again, great deal... but I'd pay a couple bucks more for the guarantee that they'll be useful.
-
February 23, 2010
-- vince
i ordered 50 of these random sleeves and recieved 3 random acks of ultra pro sleeves and 47 packs asssorted cardway sleeves. its a good deal but the wide virety you use to get with this deal is gone.
-
August 27, 2009
-- Gabriel
I ordered 6 sleeves, and received no duplicates. Unfortunately, every pack contained only 50 sleeves. Would have been nice to receive maybe one duplicate or a single larger pack.

Still, the sleeves looked great. I was surprised that they all had nice art work rather than plain colors.

I may give it one more try. Could always use with 40 card decks in draft rounds.
-
July 06, 2009
-- albert
hey if they had another section for mini sleeves like for yugioh than i'd be buying i've been tinking bout buying random sleeves but concerned that when i get them they will all be standard size.

pls make another area for mini random sleeves :D
-
November 21, 2014
-- Joe
Verified Buyer
No but seriously these are really bad.
Like, really really bad. I ordered 4 and asked T&T to give them in matched sets so I could use em for magic. They did not. So I''m sitting with 4 sets of 50 non matching sleeves (shiny metallic holograms for the record). So today I finally decided to use em to sleeve up a Weiss Schwarz deck. These cards are just slightly smaller than MTG, figured they''d fit just right. Hahahahaha, nope. Out of the 50 sleeves, about 40 fit ok. 8 are miscut and are basically perfectfits, except too tall for that. 2 are too small to fit a card in. Overall: These sleeves are cheap, but not really worth it. Also, if you took them to a tournament, not only would you be disqualified, the TOs would just laugh right in your face.
-
November 06, 2009
-- Afnan Zakaria
This would've been better if they sorted it out to YuGiOh and Regular size. Maybe artwork and no artwork too.
Condition:
Pack Of Sleeves
Fulfilled By:
TrollAndToad.Com