Heroclix Random Miniatures (DC, Marvel, and All Other Heroclix Sets) (Not Flyers)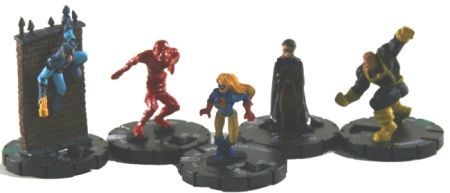 Condition:
Near Mint Plastic Miniature
Fulfilled By:
TrollAndToad.Com
Sell to Us $0.11
*
* The 'Sell to Us' price may reflect an added website credit bonus. Other buy list payment methods will not include this.
Rarity
Random Miniature
Description
Random Heroclix Superhero & Supervillain Miniatures

---

Random Marvel, DC & Indy Heroclix. May contain Rookie, Experienced, Veteran minis from all DC, Marvel, & Indy Heroclix Sets. Stat cards may or may not be included.

---

From time to time we clear out our overstocked figures. These figures go directly into our random Heroclix Bin to be sold at a discounted price. Simply place an order for the amount of minis you want and we'll pull them at random from our overstock bin!

---


Please note

---

We cannot guarantee that you'll receive any certain figure or rarity when purchasing minis from our overstock bin. Also, ordering large quantities of these will probably get you some, if not a lot of duplication.
**Randoms can be from any set including Gears of War, Star Trek, Assassin's Creed, Lord of the Rings, The Hobbit, Street Fighter, and any sets that come thereafter.
Dimensions
2" H x 1.5" W x 1.5" D
Ship Weight
0.02 pounds
-
May 16, 2012
-- Super Skrull
havent bought any in a while (insufficient funds) but when i do im never disappointed since 1 this is basically an overstock pull XD any piece comes from here they have 1000's of (and for a reason) so i never expect a *golden* piece 2) i love havin A LOT of options to choose from :) always a good buy
-
March 24, 2012
-- Vegas Rudeboy
I'd ordered 20 of these and 30 Modern Age. A great mix of figures, really securely packed. I even managed to score a LE Thomas Oscar Morrow in there. Always happy with the mix of figures, I'll be ordering this again.
-
September 20, 2011
-- Jose Vazquez
ordered ten got a nice mix, but not too many indys. still wort it, will order more soon.
-
May 25, 2011
-- Anonymous
i bought 5 and had got 2 different spider men and 3 other cool guys totally get a few at at time not a lot at a time
-
May 11, 2011
-- Vegas Rudeboy
I was really impressed with the variety, I ordered 60 and got 42 unique figures, but got lucky with a bunch of Shield medics and agents, also got a bunch of Thugs and Henchmen, great for team building and scratch games. Got a few duplicates but overall, this is a great way to get a collection started. Figures were really well wrapped and packaged, shipping was really quick too. I would definitely order again, very happy with how mixed a lot it was.
-
March 26, 2011
-- Kl'rt
this is a great deal :) i have yet to be disappointed (even with dupes, haha got friends that play too) i usually buy 30 every two weeks and the selection has yet to let me down, actually been getting pieces i want out of it for armies and scenarios, so if u wanna build a collection quick or just enjoy playin with random stuff, go for it and at this price, there's no reason not to buy in bulk :)
I've purchased this deal three times, and each time have been thrilled at the variety and selection. At this price, this is the best way to go to amass a rocking Heroclix force.
-
June 11, 2012
-- Wesley Johnson
Ordered 60 of these and was extremely pleased. Not suitable for tourny play, but amazing for casual play with friends and family. There were some doubles and some triples, but 65% were originals and for the price I cannot complain at all. Will definitely order again!
-
February 13, 2012
-- Akhuan
I ordered 6 of these. Because I ordered two other lots of random figures (9 DC & 9 Marvel), it's difficult to say with any kind of certainty what exactly I got from each order. I am, however, immensely satisfied with the overall collection thus acquired. I only received two duplicates (Beast Boy & Cheetah, & even still: my Cheetahs were of different ranks). I didn't get any Indy, nor did I receive any super-rares or uniques, though I did get a few rares (Darkseid, Raven). As far as I can tell, the most recent figure I received was from Origins (Wildcat Rookie).I would recommend this deal to any novice. Make sure to check out the HeroClix website to obtain updated faction information so that those vintage clix can have a better chance against more recent ones.
-
October 28, 2009
-- Brian
A great value if you just want random heroes. I spent $6 for 60 of them and am pretty satisfied. I recieved 7 Doc Samons (2 blue base 5 yellow), 6 Viper (2 blue base, 4 yellow), and 6 Avalanche (3 blue, 2 yellow, 1 red), and I've got two or 3 of several of them as well.Over all I'm pretty satisfied.
-
July 24, 2010
-- Anonymous
I would not recomend getting this deal. I received many duplicates.
-
January 22, 2011
-- Christopher Klofft
I ordered 50 of these (back when the lot was divided into seperate Marvel and DC lots). Out of 50 clix, I received 19 individual models, none of which was especially noteworthy. At a price point like this, and with the important descriptive note that they are random, I understand that you get what you pay for, but really, 62% of an order being doubles (or more - I got 6 each of two particular figures) makes a huge difference. Instead, I paid $.40 for each unique figure, which is still an OK price, I guess. I just hoped for a lot better. I won't be doing this again.
Condition:
Near Mint Plastic Miniature
Fulfilled By:
TrollAndToad.Com
Sell to Us $0.11
*
* The 'Sell to Us' price may reflect an added website credit bonus. Other buy list payment methods will not include this.