Random DC Heroclix Figure (DC Only)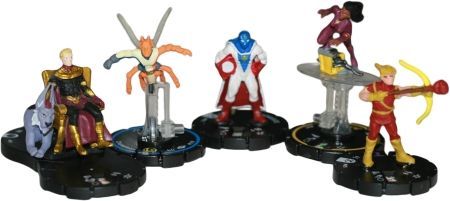 Condition:
Near Mint Plastic Miniature
Fulfilled By:
TrollAndToad.Com
Rarity
Random Miniature
Description
Here is your chance to jump on an incredible deal! Random DC Heroclix for $0.15! I'm talking about such heros as Batman, Superman, Green Lantern, Wonder Woman, Robin, Supergirl, The Flash and many more of your favorite DC characters. These figures are picked at random, so there is no guarantee on what you receive, but you never know what piece of greatness may be lurking in our randoms.

From time to time we clear out our overstocked figures. These figures go directly into our random Heroclix Bin to be sold at a discounted price. Simply place an order for the amount of minis you want and we'll pull them at random from our overstock bin!
Please note: We cannot guarantee that you'll receive any certain figure or rarity when purchasing minis from our overstock bin. Also, ordering large quantities of these will probably get you some, if not a lot of duplication. *This item may or may not include stat card.

Don't forget Trollandtoad.com the next time your looking for a great game at a cheap price!
Dimensions
3" H x 1.5" W x 1.5" D
Ship Weight
0.0125 pounds
-
December 07, 2010
-- Magik
Received a moloch the mystic, 2 Icicle, speedy, 3 supernova, larry and mike, and 2 ozymandias and bubastis For the price I thought it was nice
-
June 11, 2012
-- Wesley Johnson
Ordered 70 of these figures and ended up with close to 80% without doubles. Extremely happy with the purchase and have just ordered an additional 100 units. Sure I will end up with some additional doubles and triples, but for the price you cannot complain.
-
February 13, 2012
-- Akhuan
I ordered 9 of these. Because I ordered two other lots of random figures (6 Heroes/Villains & 9 Marvel), it's difficult to say with any kind of certainty what exactly I got from each order. I am, however, immensely satisfied with the overall collection thus acquired. I only received two duplicates (Beast Boy & Cheetah, & even still: my Cheetahs were of different ranks). I didn't get any Indy, nor did I receive any super-rares or uniques, though I did get a few rares (Darkseid, Raven). As far as I can tell, the most recent figure I received was from Origins (Wildcat Rookie).I would recommend this deal to any novice. Make sure to check out the HeroClix website to obtain updated faction information so that those vintage clix can have a better chance against more recent ones.
Condition:
Near Mint Plastic Miniature
Fulfilled By:
TrollAndToad.Com