Infinity Challenge 4-Figure Booster Pack (Marvel Heroclix)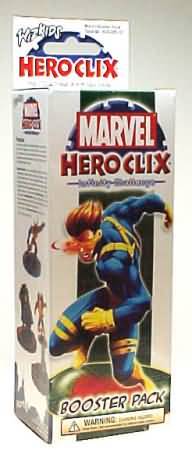 Condition:
Factory Sealed Booster
Fulfilled By:
TrollAndToad.Com
Barcode
807652032003
Isbn
1590410483
Description
Play a game using the heroes and villains of the Marvel Universe! Choose from 150 different characters to build your dream team or use teams like the X-Men, Avengers, Brotherhood of Evil Mutants, or the Sinister Syndicate. Marvel HeroClix: Infinity Challenge uses beautiful, fully-assembled, prepainted miniatures with rules that can be learned quickly, but offer limitless strategy. Each figure stands on a unique dial base that has all the game information printed on it. There are no complicated charts, tables, or record-keeping; all the information is on the dial.

Includes the Hulk, Spider-Man, Magneto, Captain America, Wolverine, Hobgoblin, Elektra, Sabretooth, and more of your favorites. Marvel HeroClix: Infinity Challenge Booster Box includes four Marvel characters and I.D. stickers.

Contents
4 Randomly inserted, prepainted, fully assembled miniatures
4 I.D. Stickers

Dimensions
9" H x 3" W x 2.5" D
Ship Weight
0.227 pounds
-
June 29, 2011
-- William
FANTASTIC DEAL!!! $1 for a booster pack! I haven't opened the four I bought yet, but wow.
-
May 11, 2002
-- Ben Brode
Oh man... When I first saw this game at the local Comic Store, I flipped... The characters look COOL. Apart from great aesthetics and the thrill of playing an RPG with your favorite Marvel (and soon to be DC) characters, the gameplay is excellent and terribly addictive. Also, at 5 dollars a booster (at this site) it's a crime not to buy it! Pick up a starter and see how you like it, and then start ordering the boosters, you won't regret it. Even if you don't like the game, you'll love the figureines.
Condition:
Factory Sealed Booster
Fulfilled By:
TrollAndToad.Com