Superhero Cthulhu Large Plush (Cthulhu Toy)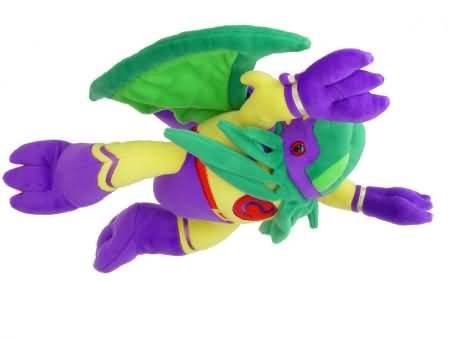 Condition:
Unused Plush Toy
Fulfilled By:
TrollAndToad.Com
Description
This Superhero Cthulhu Medium Plush is Cthulhu as a super hero, which stands 17" tall and 14" wide. This version of Cthulhu is very colorful with a large purple cape around his neck that has a C embroidered on it. His shirt and pants are a mix of purple and yellow. The outer covering is made of 100% polyester and the filling is plastic pellets.

This product is meant for ages 3 and up.
Dimensions
8.5" H x 8.5" W x 6" D
Ship Weight
1 pounds
-
October 03, 2007
-- Anastasia Holt
I ABSOLUTELY LOVE IT!!!!!!!!! I just got it and he is soooo cudely and soft. He is sooooo amazing. Even my sister can't let him go. We are soooo happy. He is adorable....the color sceme could have been cooler, but other than that I LOVE HIM!!!!!!!!!!!!
-
March 06, 2007
-- Lisa Bates
I got one and he's cuter in life, as he has a cute beanie body. He is soft colourful and plush and will enjoy menacing my Doctor and Harkness.
-
February 02, 2007
-- Anonymous
You are dressed like Jack Harkness. I think you also are the tenth Doctor in disguise. He is a Judge Death clone however. I bet you would like to be Doctor Who, be careful what you wish for, you might get it. You stuck a cyberman on one of your other sites with the other Cthulhu toys, you will make a great happy clapper. I like the Superman suit, I hope Jack Harkness doesn't take a fancy to you and wants to carry you off and bliss you somewhere and we never see you again like he did the other alien in " end of days".
-
December 16, 2004
-- Jonathan Mariante
Look, up in the sky...it's a pterodactyl...it's a UFO...no, it's Super Chtulu!!! Making the world safe for evil! In the name of Death, Destruction, and the American way! Look out, Justice League, you have met your match! If you thought the Legion Of Doom was tought, Super Chtulu makes them look like the Brady Bunch! Up, up, and away!
-
October 24, 2004
-- Nick
I love my SuperHero Cthulhu. He is cute and cuddly. But also fierce. Right now he's guarding my room. At night we cuddle and I tell him secrets.
-
April 30, 2004
-- Briana
Cthulhu in Spandex. Mmm-mmm-mmm.
This is hilarious! A superhero that fights the forces of goodness!!!
Just when you thought the world was safe from villains - it's Super Cthulhu! Oh, he's fun. The suit could have been cheezier (no really, it should have been spandex), but the cape rocks.
-
September 05, 2003
-- Lee Lester-Leon
It doesn't matter if yellow does not go with purple... I'm a comic geek and I love Cthulhu... 'nuff said.
Condition:
Unused Plush Toy
Fulfilled By:
TrollAndToad.Com