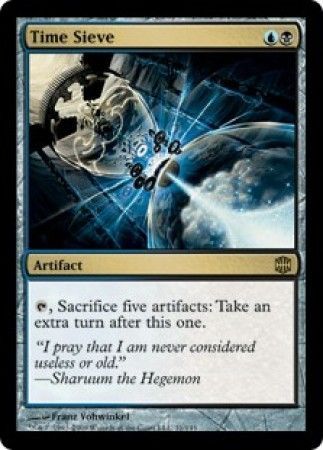 | | |
| --- | --- |
| Rarity | Rare |
| Color | Gold |
| Casting Cost | |
| Card Type | Artifact |
| Card Text | , Sacrifice five artifacts: Take an extra turn after this one. |
| Set | Alara Reborn |
| Artist | Franz Vohwinkel |
| Flavor Text | "I pray that I am never considered useless or old." —Sharuum the Hegemon |
| Description | Alara Reborn Single Card |
| Release Date | 2009-04-30 |
| Dimensions | 3.5" H x 2.5" W x 0.012" D |
| Ship Weight | 0.004 pounds |
-
August 07, 2010
-- Jace the Mind Sculptor
Time Sieve is one of the best artifact card. Since Grim Monolith unbanned 1 July 2010, this card bring the combo Time Sieve-Open the Vault more dangerous than before!!! Thanks for WoTc and Troll, I have 4 of them....
-
June 13, 2009
-- Gabriel Montes Deoca
I can get infinite turns with this way too quickly!
-
March 29, 2011
-- Raphael Honey
Its a great card to combo with Thopter Assembly and Belbe's Portal or even Urza's Incubator if you're lucky enough to throw 'em out.