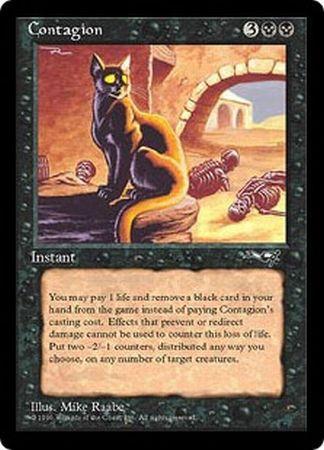 Fulfilled By:
TrollAndToad.Com
Sell to Us $0.13
*
* The 'Sell to Us' price may reflect an added website credit bonus. Other buy list payment methods will not include this.
| | |
| --- | --- |
| Rarity | Uncommon |
| Color | Black |
| Casting Cost | |
| Card Type | Instant |
| Card Text | You may pay 1 life and exile a black card from your hand rather than pay this spell's mana cost. Distribute two -2/-1 counters among one or two target creatures. |
| Set | Alliances |
| Artist | Mike Raabe |
| Flavor Text | |
| Description | Alliances Single Card |
| Release Date | 1996-06-10 |
| Dimensions | 3.5" H x 2.5" W x 0.012" D |
| Ship Weight | 0.004 pounds |
-
August 14, 2010
-- Anonymous
This is just like a Force of Will in Black. Although it's not that powerful, this card is good enough to give your opponent's creature sick... two -2/-1 counters is great enough to toast any small creatures... esp. for goblins and merfolks. This card always used in Pox deck and Landy deck....
-
August 14, 2010
-- Anonymous
This card is great, esp. at toasting any goblins, merfolks, and elves... be sure any Pox Decks use it as a sideboard... Lackey and the other goblins will be dead in no time...
-
July 07, 2008
-- doom hammer
this is a great, classic card that i still frequently use.
but the alternate casting cost removes a card in your hand from the *game*
it doesn't go to your graveyard

all in all, a great card
-
June 25, 2009
-- Anonymous
Although it's possible I might've thought the card causulty went into the graveyard as you said, I don't think so: because I'd read through a lot of cards looking to compound a good deck before I gazed at this one, thus when I recognized its strategical grandness, I likely read the text twice over to be sure I had got it right. I think that I might also have referred to the fact that I can put my opponents creatures into his graveyard, and then snatch them to my side through some other black cards I have, thus fuming my reanimator deck that way, or whatever I was up to at the that time... cuz the card is simply phenomenal. The comment was gleeful and wishy-washy because I didn't expect anyone else to interest themselves with it.
FIN
-
June 25, 2009
-- Anonymous
The comparison I make with Dark Ritual is that if you're mono black and playing cards like terror through use of Dark Ritual, you might as well use Contagion because it's both of these cards put into one, so you save card space (As if you shuffle two cards when you shuffle one. Instead of one being Dark Ritual and One Terror, it's Contagion, and its partner is any random card from your deck which gets placed on your hand). In late-game I use Grave Pact, so even if the use of Contagion as a Terror spell on creatures with toughness greater than 2 has faded by then, they get killed by other means. From that point of view, I lose a bit of card space later on because the card sinks in usefulness, but I still think I save more than a person using Dark Ritual and Terror like in an old deck. With that weak point under consideration, I alternatively play one "songs of the damned" in place of a fourth contagion, as a bigger sort of hole in the deck early on, but an extremely powerful variation of Dark Ritual and Contagion in late game (instant spell which gives black mana based on the number of creatures in your graveyard).
TBC
-
June 25, 2009
-- Anonymous
(comment on a comment)

Hi again (I'm the first reviewer). I think that what I meant in 2006 was that without tapping lands in order to cast Contagion, my mana reserve could focus mainly on creatures during my turn, and still have an amount of control during my opponent's phase. Sort of speed-thing, using this card instead of relying on Dark Rituals (which is a bleaker card) to get a lot of things done. Typical way Magic progresses: a newer card gets released which is less craggy than the predecessor. I always viewed Dark Ritual as a hole in my deck. That's why Contagion has "remove a card from game", because it keeps the hole in the deck still there. However, it does have a mana cost, so you Could pay it, if you wanted to. This card is flexible and is a key card in my deck from my point of view. Naturally, I play 4. Good to pick out weak creatures with (And your own creatures, should you want to; for some cruel purpose).
TBC
-
February 23, 2009
-- NJ Devil
good card.......but the same rarity as Force of Will in the Alliance set??? this is worth pennies, while FOW is worth more than most people make in an hour of work....... totally Nutz isn't it ??? lol ........ God Bless Phyrexian Dreadnought btw. That beast has sky rocketed in value and grown very scarce ...... hmmm
-
August 29, 2006
-- Anonymous
This card is a great way for my reanimation deck to weaken/kill opponents creatures without spending mana on anything other than the mischievous scheme of filling my graveyard!
Fulfilled By:
TrollAndToad.Com
Sell to Us $0.13
*
* The 'Sell to Us' price may reflect an added website credit bonus. Other buy list payment methods will not include this.