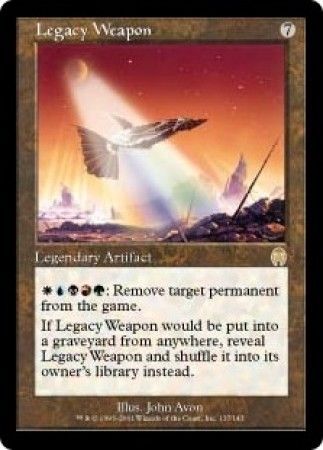 Fulfilled By:
TrollAndToad.Com
Sell to Us $1.19
*
* The 'Sell to Us' price may reflect an added website credit bonus. Other buy list payment methods will not include this.
| | |
| --- | --- |
| Rarity | Rare |
| Color | Artifact |
| Casting Cost | |
| Card Type | Legd Art |
| Card Text | : Exile target permanent. If Legacy Weapon would be put into a graveyard from anywhere, reveal Legacy Weapon and shuffle it into its owner's library instead. |
| Set | Apocalypse |
| Artist | John Avon |
| Flavor Text | |
| Description | Apocalypse Single Card |
| Release Date | 2001-06-04 |
| Dimensions | 3.5" H x 2.5" W x 0.012" D |
| Ship Weight | 0.004 pounds |
EDH Bombshell... You won't have friends anymore if you're playing with this~ Soo much flavor and the art work is pretty sweet also. Great card.
-
May 16, 2010
-- Alucard
Get your five basic lands out(Terramorphic Expanse, Prismatic Omen or however) then use Mirari's Wake to double the mana each creates to get rid of two permanents with 5 lands tapped
-
September 22, 2009
-- zombie242003
If only the past reviews were more recent,with alara set,the new planechase cards,zendikar coming out....this card is cake to play,even a couple times a turn.
-
January 23, 2007
-- DICKS McGEE
This is the crown jewel of five color decks.
-
February 16, 2003
-- Despoiler
This card is way too overpowered but obviously effective so it gets a 5. It is not the fact that it can destroy any permananent that is over powered, it is that it goes right back into their deck if a cad would put it to the graveyard. If they have a card played that allows them to searh their deck and bring out a card to top of deck, or hand, out comes Legacy weapon again. That is just ridiculous.
-
October 16, 2002
-- Anonymous
EASY COMBO. Use CELESTIAL DAWN, URZA'S MINE, POWERPLANT, and TOWER, then use a LEGACY WEAPON. Use Urza's stuff to produce an amazing amount of mana, then kill all of their good cards. If you have two of each of the urza's, and one plains, you can kill three things in one turn. If you take out their lands with it, they can't play anything anymore.
-
January 18, 2002
-- IVAN
THIS IS THE HEART OF MY FIVE COLOR DECK.
-
December 25, 2007
-- Brian
This card is a killer in the late game if you can manage to pay its massive casting cost and continual fuel its destruction effect. I've found it to be an effective game-finisher in my Sunburst deck. The most obvious combo is Crystal Quarry, which has been mention in several of the reviews. My advice to casual players looking to use this card: Green deck. Joiner Adept, Paradise Mantle, Gemhide Sliver! These are all great cards to help pay itas cost if Crystal Quarry is out of your price range. Birds of Paradise is good as well, but even for costly than the Quarry. Also, if you buy Legacy Weapon, invest in the Apocalypse version. The art is so much cooler than the 10th Edition.
-
April 14, 2002
-- Robert Blakey
All you have to do is make your 5 color deck mustly green, and use Gae's Balance to sacrifice 5 forest to get your 5 basic lands out. Then hit them every turn wit it.
-
November 30, 2001
-- Pej J
One of the few cards (such as chromat) that can make a weak rainbow deck somewhat stronger.
-
December 16, 2009
-- Jim
Great when paired with either Mycosynth Lattice or Pulse of Llanowar. Makes the activation cost way easier to pay.
-
March 02, 2005
-- Anonymous
enjoyed playing with this in 1.5 all brown deck with its partner 'crystal quarry.' until things took a more serious turn and i, regretfully, had to move on to other things. but i enjoyed answering any deck theme, other than non-targetable, with this baby. and it was removed! also took care of new mechanics like "indestructible" and was especially good against enchantress type decks. that being said, in the metagame, just a bit too slow, although i will certainly revisit the combo in a heartbeat if i find it in anyway feasible in the future. love the art to by one of my favorite artists in magic mr. john avon, who's really outdone himself here. on a third and final note, i've always toyed with the idea of, just for fun and in casual play, of making a sixty card deck that reteamed the members of the 'skyship weatherlight'(also a card!). recommend, if not highly, not the immediate putdown you might think especially in combination with a strong mana base and 'crystal quarry'..........................
-
February 09, 2002
-- Alex
Think Crystal Quarry... four of them. Then it becomes somewhat useful.
-
September 07, 2001
-- Paul Malove
Overall this card could work in a domain deck but it is a lot over costed.7 to cast, 5 to use is high in its own compared to vindicate but it does remove them and you can keep using it. But wouldnt you rather cast a coalition victory and just win? I have however found a very good deck to put my two weapons in...my Pyromancy deck. Its big use to em is that when it gets discarded, It just goes back in my deck. Thats how to use it, use its ability of not dying with other cards....not its intended use :-)
-
January 06, 2002
-- Anonymous
Works great with nefarious lich, confessor, and zombie infestation, otherwise, it sucks.
-
June 13, 2001
-- Nicholas Schreck
If you have to ask why I rate Legacy weapon a 1 then you probably have the odassity to call cromat a good card.
Fulfilled By:
TrollAndToad.Com
Sell to Us $1.19
*
* The 'Sell to Us' price may reflect an added website credit bonus. Other buy list payment methods will not include this.