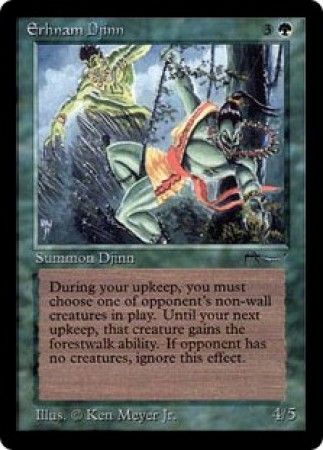 | | |
| --- | --- |
| Rarity | Rare |
| Color | Green |
| Casting Cost | |
| Card Type | Summon Djinn |
| Card Text | At the beginning of your upkeep, target non-Wall creature an opponent controls gains forestwalk until your next upkeep. (It can't be blocked as long as defending player controls a Forest.) |
| Creature Type | Djinn |
| Set | Arabian Nights |
| Artist | Ken Meyer, Jr. |
| Flavor Text | |
| Description | Arabian Nights Single Card |
| Release Date | 1993-12-17 |
| Dimensions | 3.5" H x 2.5" W x 0.012" D |
| Ship Weight | 0.004 pounds |
Back when I was a n00b I thought this card sucked because I had to give a creature forest walk, and then I learned. This card might be my favorite creature in the game. It goes well in mostly any deck that has green in it. And this justice artwork is better than the arabian nights artwork-- awesome!
-
June 27, 2007
-- andrew reeves
This creature frustrates my opponents more than any other creature I have. Sure you have to assign forestwalk to an opponent's creature, but a 4/5 for 3G more than compensate. I am running 4 of these in a green black deck
-
January 28, 2005
-- boris chiu
-
October 30, 2004
-- Nick
Another one of those one-in-a-million creatures. Although widely underestimated, it is one of the most efficient and flexible creatures ever. First of all, it only costs one green to cast so it can be splashed virtually anywhere, and for only 4 its got the same power but a toughness of 5 so it is difficult to kill. Its drawback is overstated, because so many situations render it redundant (Give it to a flyer, a creature that has forestwalk already, to a thorn elemental, a shadow creature, etc.). Another good idea is to place the forestwalk on a creature like a spellshaper that your adversary will want to use for an ability instead of to attack with. Another no-brainer here folks!
-
July 05, 2002
-- Anonymous
This card is awesome!!! If you can manage to get it out with nonbasic land it's even better!