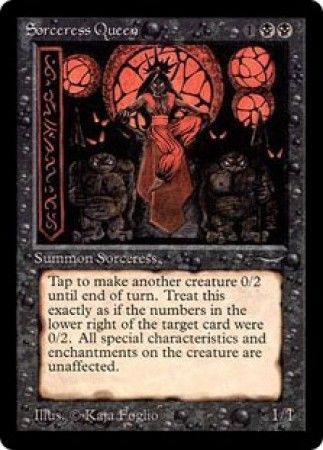 Condition:
English Moderately Played
EVO Merchant:
Mercadiacity
Fulfilled By:
TrollAndToad.Com
| | |
| --- | --- |
| Rarity | Uncommon |
| Color | Black |
| Casting Cost | |
| Card Type | Summon Sorceress |
| Card Text | : Target creature other than Sorceress Queen has base power and toughness 0/2 until end of turn. |
| Creature Type | Human,Wizard |
| Set | Arabian Nights |
| Artist | Kaja Foglio |
| Flavor Text | |
| Description | Arabian Nights Single Card |
| Release Date | 1993-12-17 |
| Dimensions | 0" H x 0" W x 0" D |
| Ship Weight | 0.004 pounds |
-
February 10, 2009
-- Jones
Thought it is very weak with just its 1 toughness I can tell you from experience that this card helps you dominate the battle aspect of magic like no other for such low mana cost. I dunno how many times I started a game with a dark ritual and a sorceress queen and locked the board til Im good and ready to start putting down the hurting.
-
May 22, 2008
-- Lunaticfringe
In addition to the value that is clearly valuable, this card works very well with Swords to Plowshares
a lot of good combos with this card, 2 timmys or a buffed abyssal hunter turn a 10/10 into a 0/2 then into nothing! freakin awesome!
my freind actually managed to play both bfms at the same time, and at that time i only had 1 queen out, but then i pulled my second, and he was screwed he was driven insane thinking that he had the strongest creatures in the game, and yet i can turn them in to sushi by just tapping my queens great card!
this is one of the best cards in magic. it can turn any one creature into a 0/2. This makes every big creature a joke, even if its 10/10 flying,trmple,first strike,ect. Good combo with duel grounds or crawlspace. this card has serious power, cant belive its so underrated.
-
February 24, 2005
-- Anonymous
now this baby did make it into my decks from the formative years when i played almost exclusively black and red decks. didn't have the dough(in '97) for the arabian nights version so i had to get it in another set i forget which one. awesome art , too kool for words! yeah baby! anyway, alot of fun, i don't know (like 'royal assassin' also) if you could play it in a competitive deck today. but multiplayer might be fun! but you'd probably still lose....with panache though!
Condition:
English Moderately Played
EVO Merchant:
Mercadiacity
Fulfilled By:
TrollAndToad.Com