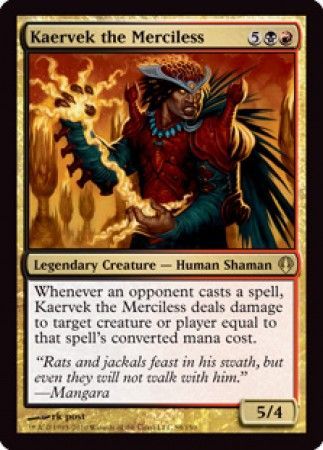 Fulfilled By:
TrollAndToad.Com
| | |
| --- | --- |
| Rarity | Rare |
| Casting Cost | |
| Card Text | Whenever an opponent casts a spell, Kaervek the Merciless deals damage to any target equal to that spell's converted mana cost. |
| Creature Type | Human,Shaman |
| Set | Archenemy |
| Artist | rk post |
| Flavor Text | "Rats and jackals feast in his swath, but even they will not walk with him." —Mangara |
| Description | Archenemy Single Card |
| Release Date | 2010-06-18 |
| Dimensions | 3.5" H x 2.5" W x 0.012" D |
| Ship Weight | 0.004 pounds |
-
July 09, 2008
-- Nicholas Vrdoljak
This card is waaaay too powerful. Borderline broken card right here.
-
February 24, 2008
-- rogonandi
If your opponent ever wants to summon another creature successfully again (You're probably going to be using Kaervek's effect to kill whatever your opponent summons, as a casting cost is very often higher than a creature's toughness) he's going to need to remove the Merciless one from play...and doing that often requires a spell in itself, which will earn a parting shot from the Merciless one. Now the Merciless one is also black, which rules out many black removal cards, so the spell involved is probably going to be expensive. In any case, Kaervek's quite a nasty card, and a must have for a red and black deck.
-
June 25, 2007
-- isaac dunford
cool i always thoght this might be worth $ but now that i checked i am going to use it sweet well i gess i am not happy it is not worth $ but now i can use it without feeling gilty this is a very good card it realy is a finishing card i mean think about
Anyone try putting a vampiric link on this guy? HAHAHAHAHAH!
-
March 01, 2007
-- Ephraim Gonzalez
This card is a must have in multiplayer. If you can discard him by the many means in magic, playing Dread Return on turn 4 makes the game go in your favor.
-
October 29, 2006
-- Kristen P.
The casting cost may be a bit high, but this guy finishes the game when you get him out. An absolutely nasty Legend. The Legends in this set are the coolest ever.
Fulfilled By:
TrollAndToad.Com