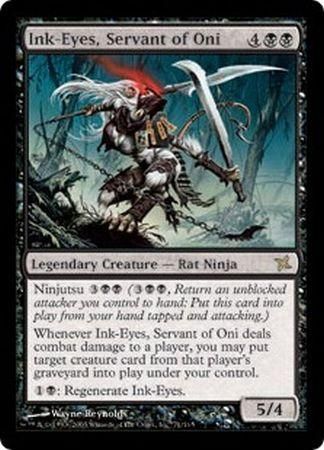 | | |
| --- | --- |
| Rarity | Rare |
| Color | Black |
| Casting Cost | |
| Card Type | Legendary Creature - Rat Ninja |
| Card Text | Ninjutsu (, Return an unblocked attacker you control to hand: Put this card onto the battlefield from your hand tapped and attacking.) Whenever Ink-Eyes, Servant of Oni deals combat damage to a player, you may put target creature card from that player's graveyard onto the battlefield under your control. : Regenerate Ink-Eyes. |
| Creature Type | Rat,Ninja |
| Set | Betrayers of Kamigawa |
| Artist | Wayne Reynolds |
| Flavor Text |   |
| Description | Betrayers of Kamigawa Single Card |
| Release Date | 2005-02-04 |
| Dimensions | 3.5" H x 2.5" W x 0.012" D |
| Ship Weight | 0.004 pounds |
-
August 20, 2008
-- Aliandrin
Best rat ever! Send in a Fear rat like razortooth to gain easy access to your opponent's graveyard.
-
August 14, 2008
-- Ronin
She's the staple card in mostly any ninja deck. She comes out turn five and gravedigs a creature for you. Plus the art's pretty hot. So what if she's a Legendary Rat Ninja? She's one Legendary Rat Ninja that'll be beating down your opponents.
-
October 17, 2006
-- Anonymous
Let's see, a 5/4 regenerating graverobber with ninjutsu. Suddenly the little shadow watchers become serious threats as any one could suddenly turn into this creature of doom. She doesn't look half bad either.
-
October 01, 2006
-- Anonymous
dude u guys, i just started playin magic and i got this card in my first pack. so if this is a good card then ... YEAH!!!
-
May 07, 2006
-- Anonymous
I have on thing to say about her she is sexy and deadl!!!
-
April 08, 2006
-- Sensei Shinobi
Sorry I just read that my review had to be 200 words so Ill try to elaborate my description this time.Ink eyes servant of Oni is probably the only ninja card besides Higure the still wind that actually helps the deck by being a re-animator,regenerator and ninja!!Get this rat ninja out in play and your chances of losing are limited.With a strength of a 5/4 she's beefy and serves as an excellent win condition becides massing your opponents with ninjas eqipped with Umezawa's jitte.Here are the ranks of ninjas blue and black going from the weakest to the strongest.Skull snatcher,Mist blade shinobi,Okiba gang shinobi,Ninja of the deep hours,Throat slitter,,Higure the still wind, and the desecrator Ink eyes servant of Omi.Though the only problem is she's expensive but if you got the cash I recommend you buy two of these maybe three at most. This hefty legend along with Umezawa's jitte and Higure the still wind are the essentials in a ninjutsu deck.Now how to use the card, obvioisly works if your opponent has a pretty good grave yard and if not make one by activitating the discarding rats.One of the best cards in the Betrayers of the Kamigawa set a must have and a ninja deck is not a deck without her.
-
April 06, 2006
-- Sensei Shinobi
An excellent card espescially for people who know how to use ninjutsu properly like yours truly.Seriously though an amazing card ,re-animator and regenerator this card has forced me to play black and blue in Ninjutsu as without it there is no fun only a little better then a card that I hold true to my hearts the JITTE every ninja deck needs this for ownage.A perfect avatar I'd probably buy more but it's burned a hole in my pocket,a l33t card!
-
December 22, 2005
-- Anonymous
I think this is a solid card. Even if you can use ninjitsu to hit em just once, you deal 5 damage and can take a creature for only 5 mana. Sounds like a good deal to me. played with Still Wind or whisper silk cloke in a ninja deck, she'll be unblockable. A 5/4 with regen and and 2 pretty good abilities for 6 mana sounds like a good deal to me. Lots of card will support this one.
-
August 03, 2005
-- Anonymous
First off SHE is female (duh?) and the regen is just icing on the cake. The main course is the 5/4 frame and the scion/soul collector ability. Ninjitsu allows you to sneek by by a first time but the lack of evasion means thet your opponent will chump block. Also this card is far superior to Okiba-Gang Shinobi as its cost & ninjitsu cost is only 1 more, for that you get psudo reanimaition, regen, and +2/+2
-
June 06, 2005
-- Anonymous
First.. Ink-Eyes is a chick you can see her cleavage.. second she is one of the best rats made 2 regen and ninjitsu plus getting a creature out of opponents graveyard whats not great about that?
-
May 15, 2005
-- NINJA ROX
First of all, Ink-Eyes is male. Secondly, combine this with a mill deck to make turbo mill. Combine ink-eyes, four megrims, and plenty of mill to make super ultra turbo mill. I like using this in conjunction with honden of night's reach and other discard/kill cards, like throat slitter. I like using ronin warclub, umezawa's jitte, and lots of shukos to deal massive damage and get a big green fatty. This works well with mistblade shinobi, which seems harmless and the ninja their asses. There are thousands of combinations. Regen is a nice addition too.
in case your wondering, she regens for 2 and has ninjitsu 5 (3 + 2 bk) & Whenever Ink-Eyes, Servant of Oni deals combat damage to a player, you may put target creature card from that playerís graveyard into play under your control. Give her the Kusari-Gama, and midnight covenant. make her so big they have to block, the take everything they own.