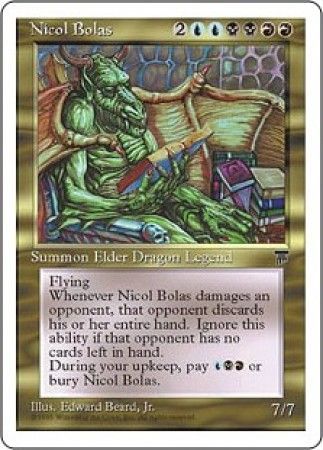 Condition:
Moderately Played
EVO Merchant:
Mercadiacity
Fulfilled By:
TrollAndToad.Com
| | |
| --- | --- |
| Rarity | Rare |
| Color | Gold |
| Casting Cost | |
| Card Type | Summon Elder Dragon Legend |
| Card Text | Flying At the beginning of your upkeep, sacrifice Nicol Bolas unless you pay. Whenever Nicol Bolas deals damage to an opponent, that player discards their hand. |
| Creature Type | Elder,Dragon |
| Set | Chronicles |
| Artist | Edward P. Beard, Jr. |
| Flavor Text | |
| Description | Chronicles Single Card |
| Release Date | 1995-07-01 |
| Dimensions | 0" H x 0" W x 0" D |
| Ship Weight | 0.004 pounds |
-
February 03, 2010
-- JEA
Nicol Bolas owns.. this card has always owned.. and even though its though to hit and stick on the table, any combination of recursion/haste has a pretty good chance of catching opponent of guard and leaving them handless.. all sorts of possiblitys for a first-third turn attack from this beast.. depending on strategy and form of play you are doing. Think..in no exact combination.. Nicol Bolas, Dark Ritual, Shallow Grave, Lotus Petal, Entomb, Buried Alive, Anger, Exhume, Cabal Therapy, Necromancy... the list goes on.
-
December 15, 2009
-- Matthew
I love this guys for EDH. I have three different decks with him as my general. Just one of the best.
-
April 19, 2009
-- Embighten
this nicol bolas is by far the best elder dragon. In fact, it almost has a first-turn win condition, believe it or not. For example:opening hand: swamp, dark ritual, dark ritual, dark ritual, nicol bolas, pox, shallow grave. Go second for the draw, getting The Rack.play the swamp, then all three dark rituals. Play Pox, discard nicol bolas. play shallow grave, returning bolas, attack for 7, opponent discards hand. play the rack, take one mana burn.Pox makes every player lose 1/3 of their life, discard 1/3 of their hand, sacrifice 1/3 of their creatures, and 1/3 of their lands, rounded up each time. That's 7 life, any one-drop creature they might've played, and their first-turn land. Then nicol bolas hits for another 7, bringing them to 6, and then the rack deal 3 damage to them on their turn, bringing them to 3 life.all you need is 3 more damage to win...on your second turn...
-
November 06, 2008
-- Anonymous
If you have the mana dropping this monster could give you the game. The turn after Nicol Bolas Comes into play he creates up to a 7 card (in hand) and 7 life difference. Swing with this a couple of times and if they're not dead, they'll be so crippled that you can let the Bolas die and kill them with any damage you can deal from your hand and/or your creatures without fear of counterspells.
-
July 05, 2008
-- Will B. Staples
Looks like a really fun card in casual! The casting cost is really exorbitant, but he shares two colors with Jhoira of the Ghitu, so I'm thinking if you run them in a deck together you can get him out way earlier than you would normally.
-
November 23, 2007
-- Anonymous
They brought nicol back into standerd! I'm still waiting for them to resterict it in vintige.
-
December 29, 2004
-- Anonymous
Um, sneak attack anyone? Seven damage and force opponent to discard their entire hand for one red mana.
This play cost is what my deck is made of. Only I get my creatures out in about six turns (possibly four turns) and by the seventh turn it is no problem to get one out all in one turn. I play the combo Buried Alive and Zombify to get my creatures out. I also throw in a Dauthi Embrace to make Nicol Bolas a shadow making him able to deal seven direct damage and make the opponent dicard its hand. This by far is not an expensive card. Sure you couldn't use this strategy in a tournament. But why not use it on your friends and make them angry or on a local tournament that plays with constructed decks instead of block.
-
May 16, 2002
-- Anonymous
-
February 21, 2002
-- Danniel DeLorme
WOW!!! expensive but worth it.
-
July 24, 2009
-- Anonymous
While this Nicol Bolas is pretty sweet, I'm hard-pressed to believe that you have ever gotten 3 Dark Rituals in your opening hand, much less enough to pull off this "Turn one win" that isn't a turn one win. With that kind of luck, you might as well be playing Hulk/Flash or some other deck that actually can give you a turn 1 win.
Dragon Arch+Sol Ring=Nicol Bolas. Just make sure you have the mana, you all know Nicol loves his mana
-
March 26, 2009
-- Matt Walsh
very useful in sneak attack, but whoever down below me said they will restrict it in vintage, ARE YOU SERIOUS, they only restrict ultra powerful cards, no way this falls into that category with that kind of mana cost.
-
November 30, 2008
-- Anonymous
Other than surprise deployment, he is great to use with Scion of the Ur-Dragon. Since i can burn a field (scourge of Kher Ridges), this takes care of the hand.To keep him on the field, dragon arch works wonders. I use both in my dragon deck.
-
February 07, 2002
-- Anonymous
Condition:
Moderately Played
EVO Merchant:
Mercadiacity
Fulfilled By:
TrollAndToad.Com