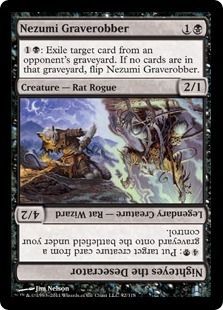 | | |
| --- | --- |
| Rarity | Uncommon |
| Casting Cost | |
| Card Text | : Exile target card from an opponent's graveyard. If no cards are in that graveyard, flip Nezumi Graverobber. |
| Creature Type | Rat,Rogue |
| Set | Magic: The Gathering-Commander |
| Artist | Jim Nelson |
| Description | Commander Deck Single Card |
| Release Date | 2011-06-17 |
| Dimensions | 3.5" H x 2.5" W x 0.012" D |
| Ship Weight | 0.004 pounds |
-
May 12, 2010
-- Anonymous
Definitely a strait-up epic card. Combine it with Crypt, bam you have yourself a reanimator for 3 mana on your third turn.
-
July 05, 2006
-- Joseph Watson
Great card on its own and even better when playing a reanimator and/or Golgari deck as you can get rid of the players annoying dredge creatures.
-
December 30, 2004
-- Jake
this card is better than the beacon of the undead, you can start to pull it off by the 4th turn in a black/green deck and don't have to wait to draw it again. works good with Nezumi Shortfang and distress.