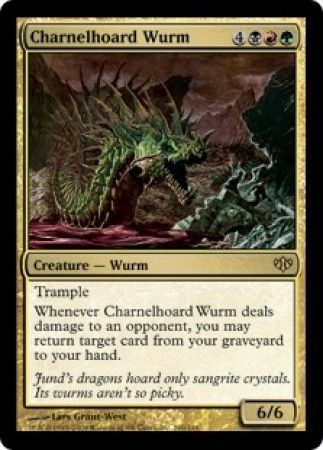 | | |
| --- | --- |
| Rarity | Rare |
| Color | Multi |
| Casting Cost | |
| Card Type | Creature - Wurm |
| Card Text | Trample Whenever Charnelhoard Wurm deals damage to an opponent, you may return target card from your graveyard to your hand. |
| Creature Type | Wurm |
| Set | Conflux |
| Artist | Lars Grant-West |
| Flavor Text | Jund's dragons hoard only sangrite crystals. Its wurms aren't so picky. |
| Description | Conflux Single Card |
| Release Date | 2009-02-06 |
| Dimensions | 3.5" H x 2.5" W x 0.012" D |
| Ship Weight | 0.004 pounds |
-
January 22, 2011
-- Jay
I overlooked this card... At first I thought it would only return creature cards from my graveyard to hand--didn't read it thoroughly. But ANY card from my graveyard is much better!I want to use this in Recursion. Turn 1: Swamp. Dark Ritual, Putrid Imp... Discard Charnelhoard Wurm. Exhume. Turn 2: Swamp. Swing Putrid Imp + Charnelhoard Wurm(Discarding Reya, Akroma, w/e) U take 7... Return Exhume to hand. Exhume next fattie from the grave!
-
December 14, 2009
-- zombie
I dont have this myself but my brother does...used bribery on him,stole this then the rest of his creatures so 5 stars for stealing cards
-
May 09, 2009
-- Marcus Anderson
This plus Violent Ultimatum is a gamewinner, you balst all opposition away with violent, attack, blast three more things away, attack... and then you win unless they can somehow disrupt this, which might be hard when you start killing their lands :).