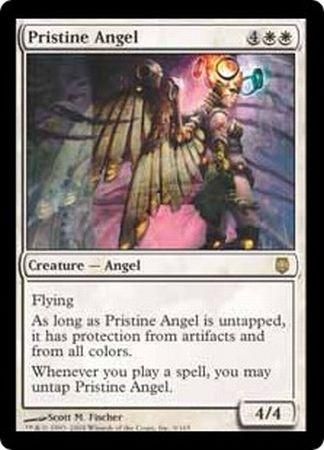 Fulfilled By:
TrollAndToad.Com
Sell to Us $0.24
*
* The 'Sell to Us' price may reflect an added website credit bonus. Other buy list payment methods will not include this.
| | |
| --- | --- |
| Rarity | Rare |
| Color | White |
| Casting Cost | |
| Card Type | Creature - Angel |
| Card Text | Flying As long as Pristine Angel is untapped, it has protection from artifacts and from all colors. Whenever you cast a spell, you may untap Pristine Angel. |
| Creature Type | Angel |
| Set | Darksteel |
| Artist | Scott M. Fischer |
| Flavor Text | |
| Description | Darksteel Single Card |
| Release Date | 2004-02-06 |
| Dimensions | 3.5" H x 2.5" W x 0.012" D |
| Ship Weight | 0.004 pounds |
-
May 06, 2011
-- Alexander
This card plus pariahs shield = game over....any damage that would be delt to u is delt to herb instead...but she has protection from all colors an artifacts so it wont destroy her...u cant be touched
-
April 09, 2011
-- Anonymous
This + Pariah's shield + 2x Privileged position ( they protect each other and everything else) = invincible
IF you have 6 mana out to play the Pristine, then why not go for 7 and play Akroma's Memorial. Its an Artifact, yes, but its ability makes ALL your creatures. Pristine only has Protection which means: Damage, Enchant / Equip, Block, and Targeting. Akroma's Memorial makes Pristine not have to worry since its a global, no target enchant or equip.Now, you want funny. Run that combo with Akroma Angle of Wrath and a March of the Machines or another way to make the Memorial a creature. Pristine is unstoppable, and you've two Akroma's going after your opponents, ones just a memory though ;D There are to many Global Enchants that will help Pristine, so why not make her a 5 Star?
-
April 28, 2008
-- Agros
Throw this down with Serra's Embrace or Gustcloak Saviour and your good to go!
-
August 14, 2007
-- boyse wingfield
Where i'm from, we play 5-color 250 card format called highlander where you can only use one copy of any non-basic land card. There are a few cards where if you play it, your opponent just scoops. Pristine angel is WAY up there if you can untap it. There are only 2 cards that make this kinda useless; another Pristine Angel, and a vesuvan shapeshifter.
-
April 26, 2007
-- Travs
I love this card SO muchI have four of these in my white deck and, of course some cards are going to be able to demolish this, but does it really matter? It's a ridiculous card in its own respect, but used with serra's blessing just makes it freaking ridiculous.
-
October 13, 2006
-- Greg Marinez
this card + vigilence + Concerted Effort = Game Over
-
October 10, 2006
-- Lukas Parson
this is a great great card and whoever says this sucks well listen to this if you splash blue and have whispers of the muse this card is invulnerable great combo works well in my angel deck
-
February 19, 2005
-- Anonymous
2 words. Serra's. Blessing.
-
October 23, 2004
-- Tama Jet
oh definently it is top noch this card only suffers from colourless creautures and spells and i've got a few of them
-
August 21, 2004
-- Ben Squires
This is an incredibley good card. This card is only a few of the angel cards that I need! With this card you could be pretty much invincible, and only for a casting cost of 6!
-
February 14, 2004
-- Anonymous
Really, Really useful card for any white deck.
-
October 05, 2010
-- thomas cox
colourless creautures are an artifact color
-
February 07, 2010
-- Jester
This card DOES work with Concerted Effort. All you need is another creature with vigilance, and you're good to go. Since it is a world effect, ALL your cards gain ALL of Flying, Vigilance, First Strike, Double Strike, Fear, Landwalk, Protection From, ect. The only things you don't get are Haste, Flanking, Bushido, and other creature type specific abilities.
-
May 26, 2009
-- Anonymous
Concerted Effort works fine.. It doesn't target (please read the rules of magic before you make comments on what others are saying). And I don't think the other person meant the enchantment vigilance, I think they meant the keyword vigilance, which with concerted effort, all you would need is another creature with vigilance on it. Excellent combo and fun to setup. Good card in the right deck.
-
January 19, 2009
-- Anonymous
All of the cards you're naming (Serra's Blessing, Vigilance) won't work on this card because it has protection from white. It is unaffected by those card's abilities. A better way to make this work would be to have a creature, enchantment, or artifact, which would untap target creature at any time. Since Pristine Angel has no color protection when tapped, such a card would work just fine.
-
October 11, 2006
-- Wouldn't You Like To Know
Pristine Angel seems to be one of my favorite cards when paired up with Concerted Effort from the Ravnica block. However this card can hold its own even without its Ravnica companion. Another good trick to using this card is to pair it up with a deck full of cheap instants. Attack, anyone does anything and pow, an instant untaps it, thus causing their spell to fizzle, plus your instant's ability will still resolve. All in all this is a great card, too bad it's cycled out of limited, eh?
-
September 08, 2006
-- nick
Or you know a innocent blood could wipe this thing out with one mana. Or bater in blood for 4 plus another creature. Or havoc demon. And you might say ill have other creatures out though. Festering goblin and Carrion feeder will definately put the hurt on.
-
October 04, 2005
-- lokan08
i have 4 pristine angel in my white deck and i can tell you its the best card ever. unfortunatly i aint got any serra's blessing but with this on play, worship, ivory mask to counter things as demonic idic youre virtualy invincible. and even more..keeping second sunrise in your and is the best way to wreck a wrath of god...about one of the only thing in global enchantments that can kill a pristine angel untaped
This is just an overall awesome card. I gave it a rating of 4 because it needs one card to make it invincible. I'l let you guys figure that out for yourself. For you vet's out there, you know what I'm talking about. If played right, it's basically an instant win depending on the deck your facing.
-
September 11, 2008
-- Tiago Campante
"this card + vigilence + Concerted Effort = Game Over "LOL. If you didn't notice, the Pristine Angel has prtection to ALL the colors and artifacts. Vigilance would be automatically burried after enchanting it to Pristin Angel, and Concerted Effort would havo no effect on him. :)Tis card is good when it comes to defending, though it can block only one creature. However, when attacking it isn't good enough.
-
December 30, 2004
-- Anonymous
GET A GRIP ITS ONLY "INVINCIBLE" WHEN ITS UNTAPPED
Fulfilled By:
TrollAndToad.Com
Sell to Us $0.24
*
* The 'Sell to Us' price may reflect an added website credit bonus. Other buy list payment methods will not include this.