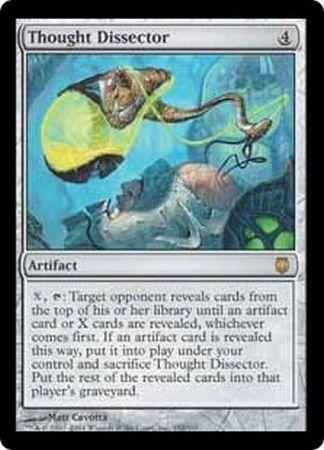 | | |
| --- | --- |
| Rarity | Rare |
| Color | Artifiact |
| Casting Cost | |
| Card Type | Artifact |
| Card Text | ,: Target opponent reveals cards from the top of their library until an artifact card or X cards are revealed, whichever comes first. If an artifact card is revealed this way, put it onto the battlefield under your control and sacrifice Thought Dissector. Put the rest of the revealed cards into that player's graveyard. |
| Set | Darksteel |
| Artist | Matt Cavotta |
| Flavor Text | |
| Description | Darksteel Single Card |
| Release Date | 2004-02-06 |
| Dimensions | 3.5" H x 2.5" W x 0.012" D |
| Ship Weight | 0.004 pounds |
-
November 22, 2010
-- Anonymous
This is such an amazing deck in black discard decks, it works best against non artifact decks, and if you add mortician beetle that you can't go wrong.
Actually... as long as you don't hit a artifiact, you can keep milling
-
May 27, 2007
-- DRM!(94
what if opponent has no artifact equipments? just use this card untill the have no cards left (although you must be a real moron to have no artifact equiptments)
-
November 23, 2009
-- zombie242003
Well to the person before me you can't keep using this card because you have to sacrifice it when you use it. Still very good though ,great for any mill deck.