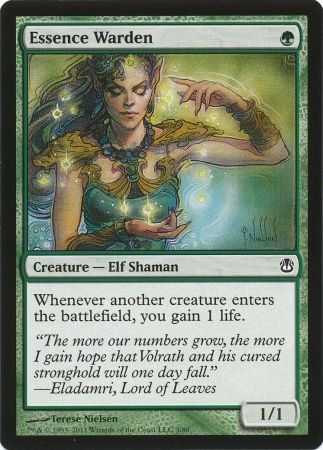 | | |
| --- | --- |
| Rarity | Common |
| Casting Cost | |
| Card Text | Whenever another creature enters the battlefield, you gain 1 life. |
| Creature Type | Elf,Shaman |
| Set | Duel Decks: Ajani vs. Nicol Bolas |
| Artist | Terese Nielsen |
| Flavor Text | "The more our numbers grow, the more I gain hope that Volrath and his cursed stronghold will one day fall." —Eladamri, Lord of Leaves |
| Description | Duel Deck: Ajani vs. Nicol Bolas Single Card |
| Release Date | 2011-09-02 |
| Dimensions | 3.5" H x 2.5" W x 0.012" D |
| Ship Weight | 0.004 pounds |
-
June 12, 2010
-- Koi140
This plus King of Kejor! When ever you lose life, you gain that life back and get that many 1-1 tokens!!!
-
July 13, 2008
-- Anonymous
great card... combine it with a saproling deck, or really any cards that get you creatures and you'll end up with alot of life
-
June 29, 2007
-- Jerimy Wallace
I real nice card especially if someone in the game is playing a token deck. You usually gain at least 1 life on every player's turn, and it only cost 1 mana! Protect it though. It becomes a target fast.
-
February 12, 2010
-- Jens Nielsen
I run some of these in a Fungus deck... Sure, Fungus is pretty slow by today's standards, but once the deck gets going, there's nothing left to stop it. I have trampled more than one player for over 1000 damage in one turn with an army of pumped Saproling tokens with trample.