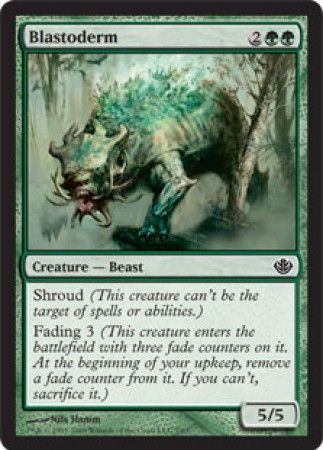 | | |
| --- | --- |
| Rarity | Common |
| Casting Cost | |
| Card Text | Shroud (This creature can't be the target of spells or abilities.) Fading 3 (This creature enters the battlefield with three fade counters on it. At the beginning of your upkeep, remove a fade counter from it. If you can't, sacrifice it.) |
| Creature Type | Beast |
| Set | Duel Decks: Garruk vs. Liliana |
| Artist | Nils Hamm |
| Description | Duel Deck: Garruk vs. Liliana Single Card |
| Release Date | 2009-10-30 |
| Dimensions | 3.5" H x 2.5" W x 0.012" D |
| Ship Weight | 0.004 pounds |
As every else has said, it's a a huge 5/5 untargetable creature for only 4 cc. The Fading mechanic just screams for Gating to recycle this card. A Horned Kavu or Shivan Wurm will do the trick, though I prefer to use a Fleetfoot Panther right at the opponent's end of turn. Even without Gating, stick four in your deck and you should have another one in your hand around the time the first fades out.The only challenges this card faces are being countered or regen blockers. I don't mind chump blocking here since it leaves another attacker open and thins the opponent's defenses every turn.
-
April 02, 2009
-- therorschach
you can't put a rancor on this fella, because he has shroud...he's only around for 2-3 turns? that's ok, he will do more than enough to shake things up while he is there. mix in some gating creatures, a little haste, some benefit of sacrificing your dudes, and you've got a delicious recipe for mayhem.sometimes I forget how awesome this card is. Up there with my favorite commons.
-
April 20, 2006
-- klducks
One of the best 4 drops in the game. This has to be one of my 3 favorite cards of all time because of how good this thing is. Dont just run 1 of these. Run 4. You'll be happy with the results.However, I would like to point out that, THIS CARD CANNOT BE RANCORED.I repeat. THIS CARD CANNOT BE RANCORED. Or another other enchantment - Auras. Sadly, Rancor "targets" with the latest errata. Apparently, Blastoderm can't be targeted so no rancor for him. However, Brawn and others like Primal Rage can give him trample as well.
-
October 30, 2004
-- Nick
Blasto is great, it is a 5/5 for only 4 mana that can't be targeted, its a must in any speed green deck. It only lasts three turns, but those three turns will leave their mark, especially with help from overrun, stampede etc. Also consider cards like reclaim, revive, and especially regrowth that gren can use to dig up stuff from the 'yard. For another twist, you can use this to gate a creature liek the horrendously powerful shivan wurm to create a double positlve. If you take a second to appreciate it, its one of the best creatures in a long while, undisputedly.
-
February 22, 2003
-- Anonymous
yes, a great card. always use 4 in my stompy. couple people say rancor, but he is untargetable by ALL spells and abilities, so ranc don't work too well
-
September 29, 2002
-- Anonymous
stick a rancor on him and hes unstoppable a fires of yavi maya would be nice also :>
-
August 17, 2002
-- Critic 101
Stick him in a good red green deck, and make sure that you get
This is a great card but the bad thing is fading, but when he's about to die use shivan wurm to bring him back to your hand. Next thing to do is finish him off.
Blastoderm has improved now that Brawn has emerged as a way of giving it trample. It isn't as intimidating as a Wild Mongrel, but it's much tougher. Potentially, Blastoderm could hit as early as turn three. And you could probably open enough boosters to get twenty for less than the price of one Juzam.
-
May 10, 2002
-- Anonymous
A 5/5 incredibly useful trampling untargettable creature that most every aggro deck is sporting four of for 1 measily dollar. Yeah, fading, I can only bring you to death's door, but not kill you. Well, rancor him up and concievably the game could be done by turn 4. No one in their right minds will give less than a five star rating.
-
March 17, 2002
-- Sir Megallot
Blastoderm is a jem that most people miss, because of the fact that it's common. Take a second look! a 5/5 untargetable for GG2? you'd be nuts not to pop him in a green deck. fading 3 is the only drawback to him, but pop him in a fires deck and you can hit with him an extra turn. of course, when your hitting with him and your opponent has a regenerator out, this is a problem, and ive found the only even remotely possible way to get around this is overrun which gives +3/+3 and trample. it doesnt target creatures, it simply affects all creatures you control.
-
June 24, 2001
-- Andrew Peltier
Blastoderm is a very solid creature and is a great example of how fading should work. It is a huge creature for only 2GG, priced on the cost's of Juzam Djinn and Balduvian Horde. In addition it can't be targeted so most decks have no way to deal with it. Blastoderm is too big a threat to ignore as a player can't afford to lose 15 life from a single card. The only downfall is that the opponent can chump block him. Blastoderm is a really great card!!!
-
June 23, 2001
-- Michael Arnold
One of the best creatures in the current Standard and still usable in other formats. Extremely undercosted and untargetable, this is a must for any aggressive Green deck. Sure he may hit for a max of 15, but just follow up with more creatures.