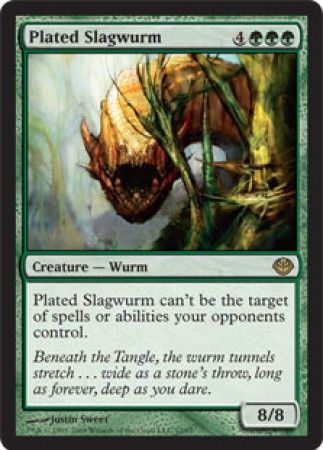 EVO Merchant:
Masterpiece Collectibles
Fulfilled By:
TrollAndToad.Com
Sell to Us $0.18
*
* The 'Sell to Us' price may reflect an added website credit bonus. Other buy list payment methods will not include this.
| | |
| --- | --- |
| Rarity | Rare |
| Casting Cost | |
| Card Text | Hexproof (This creature can't be the target of spells or abilities your opponents control.) |
| Creature Type | Wurm |
| Set | Duel Decks: Garruk vs. Liliana |
| Artist | Justin Sweet |
| Flavor Text | Beneath the Tangle, the wurm tunnels stretch . . . wide as a stone's throw, long as forever, deep as you dare. |
| Description | Duel Deck: Garruk vs. Liliana Single Card |
| Release Date | 2009-10-30 |
| Dimensions | 3.5" H x 2.5" W x 0.012" D |
| Ship Weight | 0.004 pounds |
-
May 22, 2011
-- Domination On Ice
One of the best green cards ever. You can't believe how helpful it has been over the matches.
-
September 07, 2010
-- Clint Eastwood
My best "combo" back in those day was to let the opponent start the game, on the draw i discard my slagwurm (8 cards:) and after i ramp with Wild Growth and Llanowar Elves and then i was playing Breath of Life on 4th turn... attack on turn 5 with an Armadillo Cloak for 10/10 Pseudo-shroud Lifelink Trample... AWESOME!!! win on turn 6 or 7... really bad today but so cool in that time when we were all playing casual :P
-
May 22, 2009
-- Adam Remus
if you have a green deck like mine this guy comes out by turn 4 and next turn he gets a mythic proportions making him a 16/16 trampler with his can't touch this ability
-
December 01, 2008
-- Adam Monroe
I love this card with a passion! use quick mana booster's like llanowar elves and journey of discovery. i can get it out by turn 5 if im lucky with my beginning hand. I run two of them and just ordered a third for the sake of having this wonderful behemoth. great for aggro decks, insane for combo decks. blanchwood armor+primal rage+plated slagwurm. need i say more?
-
March 30, 2008
-- James
I got mine in the Wicked Big Mirrodin Deck, it was the only Card I had to counter my brothers Avatar of Woe, Volrath the Fallen, Ishan's Shade, and Phage. But I lost it! he kept trying to trade it too me for a Slagwurm Armor, which made me think he took it, but I searched his massive box of cards and couldn't find it.
-
March 28, 2006
-- Lord of the Dragons
Stompy! Stompy! Cheap stompy! Fun card alert! Power/Toughness greater than CMC, AND untargetable to Opponents?? WOOT!! Enchant with Mythic Proportions for good times!
-
January 09, 2006
-- aquarius196
this is my game winning card. DARKSTEEL COLOSSUS MY A$$!!! this is the oringinal indestructable card!!! and i've defeated colossus with the plated slagwurm with the help of two loxodon's warhammers. this is without a doubt the best card to have ever been added to my deck and with it being 5 color i also run draco and dragon tyrant!!! :) hee hee! if you don't rate this card at 5 stars you probably don't own it, or somethings wrong with you.
-
August 02, 2005
-- Anonymous
An unbelievable card. One of those cards in which you think that Wizards was crazy for even printing it. Anyone who gives it less then five stars is an idiot. Give it Loxodon Warhammer and Neurok Hoversail and you got pretty much a game winner right there. Killed someone in two turns with that combo.
-
May 13, 2005
-- Akroma angel of Wrath(nothing compare with it).
I think this is an Incredible card only the 8/8 thing for 7 mana is amazing and the ability is the goodes ever, no even Phage or Akroma can beet it because their power are lower, the are equal or more in mana cost and theirs abilities cant be used so only if your opponent have one card of 9/9 or more can win.
-
September 01, 2004
-- Scorpion
This is one of the best cards ever. If you have quick cards and you put 7 manas, you cant lose this game. It can be destroyed only by combat damage, and has you can see, its an 8/8.

I have it. Im lucky. :))))
-
January 09, 2004
-- Anonymous
Okay people. This card is unsung. An 8/8 that can't be the targetof spells and/or abilities for the same amount of mana as the thorn elemental?! Who in the hell wouldn't want this card?! It doesn't have super trample, like the thorn elemental, but it cant get burned! SIX STARS
-
December 08, 2009
-- Jim
This is a great card, but keep in mind, the fact that it can't be targeted doesn't mean that your opponent can't do anything to it. Wrath of God, Damnation, Plague Wind, or any other creature-destroying spell/ability that isn't targeted will still destroy this guy.
-
February 16, 2008
-- Rick
Good Creature, but still can't stand up to A Diabolic Edict, especially if thats imprinted on a Isochron Scepter, but then again what can? All in All i might run it if i played green but i would not base my deck around it.
-
September 02, 2004
-- magic fan
This is a cool card it only costs seven fon an 8/8
-
January 23, 2004
-- Anonymous
A very annoying card, especially if your opponent land rushes it out and enchants it with flying or trample. Or both. Even Avatar of Woe can't stop this thing.
-
October 28, 2003
-- seit
This acctually isn't that bad a card. I admit it may be a bit pricy(mana cost), but its ability and power make it amazingly resiliant!
This is a decent card. Not as amazing as some of the other reviwers think it is. But still pretty good. The cost of this bad boy is a little higher, but not really when you think about it. Sure he costs 7 but in green you ride a high mana tide anyway. And you're getting a creature that has protection from other people. Take that Terror! But you can still pump him up yourself. Amazing!
Now he does have a down side. He doesn't have trample. Although, I'm glad he doesn't or he'd be one of the best cards ever. I have a friend who runs a wurm deck, and boy am I glad I have a lot of weenies out when this wurm hits the table. So glad he doesn't have trample.
Still, if your playing him, all you have to do is drop a Blanchwood Armor or a Overrun, and it's going to get nasty....
EVO Merchant:
Masterpiece Collectibles
Fulfilled By:
TrollAndToad.Com
Sell to Us $0.18
*
* The 'Sell to Us' price may reflect an added website credit bonus. Other buy list payment methods will not include this.