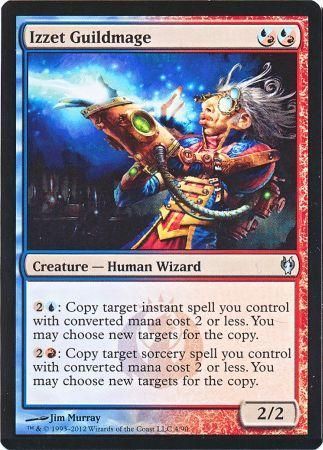 | | |
| --- | --- |
| Rarity | Uncommon |
| Casting Cost | U/RU/R |
| Card Text | (/ can be paid with either or.): Copy target instant spell you control with mana value 2 or less. You may choose new targets for the copy.: Copy target sorcery spell you control with mana value 2 or less. You may choose new targets for the copy. |
| Creature Type | Human,Wizard |
| Set | Duel Decks: Izzet vs. Golgari |
| Artist | Jim Murray |
| Description | Izzet vs. Golgari Duel Deck Single Card |
| Release Date | 2012-09-07 |
| Dimensions | 3.5" H x 2.5" W x 0.012" D |
| Ship Weight | 0.004 pounds |
-
December 23, 2010
-- Jay
This + Training Grounds = Insane Potential. Turn 3 you can play Manamorphose; draw up your whole deck and produce 1 excess mana of any color for each copy you make + the original copy. In short you had best come up with a win condition considering you have your whole deck in hand plus 50+ mana of any color; Don't over-draw though by making too many copies...I've killed myself on accident in a multiplayer game when I first figured out the combo and went 4 cards over my deck count -- I could have slipped in a lightning bolt onto the stack before the last Manamorphose(s) resolved and just copied those until opponents were dead and as a state-based-action I would win before the last Manamorphose would resolve, but I just totally missed it.
-
July 29, 2010
-- Mister E. Mann
If you have six open mana, this guy out, and desperate ritual and lava spike in your hand, you win!
-
July 01, 2009
-- Toby Burgess
I use this in my goblin-tron deck to take out emperor teams. Swarm the field, drop some Siege-Gang Commanders, then copy Goblin War Strike. As long as the original War Strike is on the stack, you can copy this until you run out of mana, getting around spell range, taking out generals and emperors for 2R a pop.
-
September 24, 2007
-- Dan Jones
I know an absolute killer or deck eater combo whatever you want to call it. Sure you need a three color deck but what kind of damage to anyone would you be able to do if you replicated Glimpse the Unthinkable even three times. (That's a grand total of forty cards from the top of an opponent's library to the graveyard.) Also use Szadek, Lord of Secrets in the same deck, it works wonderfully.
-
January 14, 2007
-- Ken Bundy
You really need to use this card with Seismic spike and a locket of Yesterdays or two. This way, Seismic Spike costs only 2 to play, can be replicated, and give you a 66% return on mana. Once you have one Seismic Spike in the stack, replicate and let it resolve. Then, replicate it and let it resolve over and over (i think this is legal).
-
March 22, 2006
-- Eric k.
the best card to hit the guilde's.what wizard deck cant use one
-
February 21, 2006
-- TREY H
REPLICATE RULES!!!!! THE IZZET GUILDMAGE IS AWESOME AND SHOULD BE HONORED IN THE GUILDMAGE HALL OF FAME!!!
-
October 24, 2008
-- Jake Glower
Fun in a Guilpact deck where spells are flying around, but you run out of mana quickly. Really needed in a goblin deck, however, due to the lack of spells those decks have. Izzet Guildmage lets you get the most out of your limited red sorceries by replicating them. With 8 mountains, you can replicate one sorcery card creating: three volcanic hammers (12 damage), three dragon fodders (add six 1/1 goblins), or three spitting earth (24 damage). With Izzet Guildmage, those goblins now have a powerful sorcerer backing them up!
-
February 28, 2006
-- Josh Tyler
Great Card, just another card to combo a berserk.
-
February 16, 2006
-- Galen Andrews
a pretty flexible card, works well with Desperate ritual spliced onto lava spike for infinite damage.