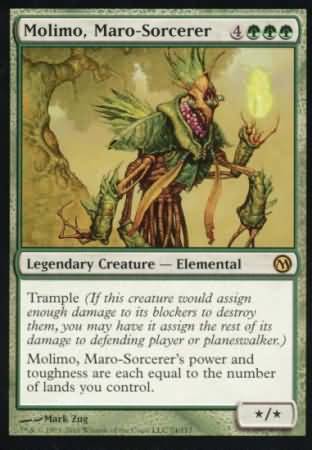 | | |
| --- | --- |
| Rarity | Rare |
| Casting Cost | |
| Card Text | Trample (This creature can deal excess combat damage to the player or planeswalker it's attacking.) Molimo, Maro-Sorcerer's power and toughness are each equal to the number of lands you control. |
| Creature Type | Elemental |
| Set | Duels of the Planeswalkers |
| Artist | Mark Zug |
| Description | Duel of the Planeswalkers Single Card |
| Release Date | 2010-06-04 |
| Dimensions | 3.5" H x 2.5" W x 0.012" D |
| Ship Weight | 0.004 pounds |
-
July 30, 2009
-- Anonymous
5 stars...in the right deck. I have a yet to be beaten mono green deck based around this sucker. Packed with druids to get your land out quick, aluren for speed, and then drop gilt leaf archdruid to steal lands. Use vitalize, and you can have all the lands anyone has in one turn, singe or multiplayer. What power and toughness does molimo have NOW? Combine with biorhythm and you life total soars. Good fun.
easy to play then just enchant with blanchwood armour and this guy can easily get up to over 30/30!!!
OK, think of this: Molimo with MArk of Sakiko, just add Whispersilk Cloak and BAM! If you had 7 forests when this came into play now you have 14 forests!! Now your Molimo isa 14/14! Do it again and BOOM! now he's a 28/28!! THERES NO STOPPING IT!!
-
November 24, 2002
-- Solon Bowden
Molimo is an outstanding card to win the game with.With trample,this card's damage is unstopable!It's won me the game many times.
-
March 23, 2002
-- Anonymous
This card is a bomb!!1 7 mana for 7/7 stomper, are you nuts!?!. A combo Multani's Harmony plus Roffelos plus his brother Multani. A real killer! If only it was untargetable by spells and abilities like his sibling, multani, Maro sorceror...nah, much to broken.
-
February 04, 2002
-- Anonymous
This card is awsome if you can get it out cuase i have plenty of lands. I think this is way better than multani.
-
January 31, 2002
-- Jeremy Sunell
This card is so freekin awesome, i dont understand why it is soo cheep, its capable of being huge with trample, its won me many games anyway..
-
December 12, 2001
-- Naylor
This card is a good though it could be better. Its has an exalent ability being trample.
-
January 21, 2006
-- Patrick
Theres a difference between the mana in your mana pool and how many lands you control. Mark of sakiko won't make him any bigger.
Decent card. But for the mana I'd rather have a thorn elemental. Or Multani.