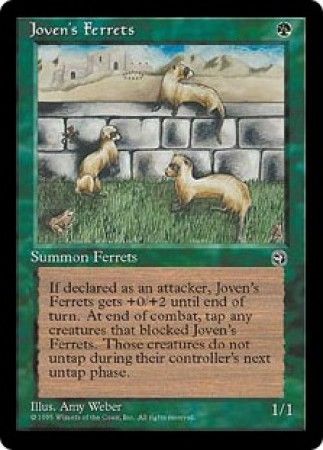 | | |
| --- | --- |
| Rarity | Common |
| Color | Green |
| Casting Cost | |
| Card Type | Summon Ferrets |
| Card Text | Whenever Joven's Ferrets attacks, it gets +0/+2 until end of turn. At end of combat, tap all creatures that blocked Joven's Ferrets this turn. They don't untap during their controller's next untap step. |
| Creature Type | Ferret |
| Set | Homelands |
| Artist | Amy Weber |
| Flavor Text | |
| Description | Homelands Single Card |
| Release Date | 1995-10-01 |
| Dimensions | 3.5" H x 2.5" W x 0.012" D |
| Ship Weight | 0.004 pounds |
-
April 25, 2009
-- Veteran Planeswalker
jovens ferrets+lure+invioability+ sterling grove = stasis like effect that clears the way for you to attk unblocked for two turns straight with green or white fatties. think the ferrets suck now?
-
April 13, 2007
-- DarkFerretMaster
Being basically a 1/3 for 1 mana makes it great. Add in a potentially crippling ability like that - are you kidding? Lure anyone? Banding anyone?
-
March 21, 2006
-- Joshua
A one drop for one is half decent the way it is. Add the +o +2 when attacking even better. Now to top it off the creature that blocks it is not going to be able to attack or use and tap required abilities next turn. So it is prob. going to get in a few unblocked attacks b4 it is killed. I think that is pretty solid. Also in response to anonymous from Downingtown's remark listed above, any pumped up creature with trample is going to be good lol. Idiot.
-
June 21, 2005
-- RKolbasowski
Sure, go ahead and dismiss these little ferrets. Bottom line: you get this one-drop out early, and your opponent has three options: take 1 damage, lose a one-toughness creature as a blocker while the now 1/3 ferrets survive, or block with a 2- or more toughness creature that will be useless next turn. None of these are desirable options. This is a solid one-drop option for a green mage, and they can be downright scary with a pump enchantment like Briar Shield attached to them.
-
March 31, 2004
-- Anonymous
Only ferret card ever printed. His ability is wasted given how weak the card is. Throw in some Atk/Def boosts and give him trample. Then people will block with multiple creatures. Making Jovens Ferrets SLIGHTLY useful. In the process you take up useful deck space with multiple cards to boost him when you could achieve the same effect if an instant card.