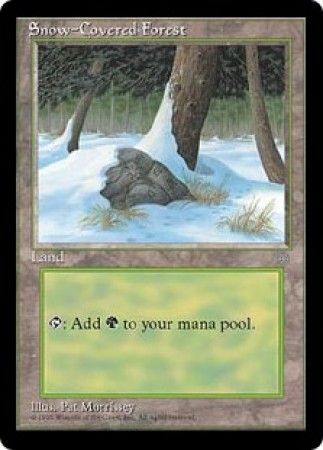 | | |
| --- | --- |
| Rarity | Common |
| Color | Lnd |
| Card Type | Land |
| Card Text | (: Add.) |
| Creature Type | Forest |
| Set | Ice Age |
| Artist | Pat Morrissey |
| Description | Ice Age Single Card |
| Release Date | 1995-06-03 |
| Dimensions | 3.5" H x 2.5" W x 0.012" D |
| Ship Weight | 0.004 pounds |
-
April 27, 2008
-- Gunnar Thordarson
Actually, Snow lands count as basic to cards like Sakura-Tribe elder, Rampant Growth, and Search for Tomorrow, so I don't see why it should be any different for non-basic land destruction like DUst Bowl. But maybe I'm just wrong.
-
July 25, 2005
-- Anonymous
um, the previous review was for 'snow-covered plains' not 'snow-covered forest.' i made this error when t&t had the aforementioned's picture here instead of the latter's. well, they corrected it but didn't put my review in the right spot. okey-dokey then, but at least let me mention the fact that the previous review is for 'snow-covered PLAINS!' thank you................
-
March 16, 2005
-- Anonymous
extremely beautiful. at least to this viewer. it kinda' bums me out that you can kill these with cards like 'wasteland' and 'dust bowl' not to mention fringe cards like 'back to basics.' and "snow-covered" just isn't really worth that kind of heat. that being said, it breaks my magic loving heart not to play with this gem. i mentioned before that an artist sometimes has a hard time drawing certain colors in these land vistas, and i think the color purple would certainly be at or near the top. but this dude has certainly achieved a transcendant piece here. utterly gorgeous. maybe on MTG's 20th anniversary they'll bring back some type of "snow-covered" abilities that don't generally suck. then i can whip out these near antiques and begin my art appreciation class..............
-
January 03, 2004
-- Anonymous
I love *all* Snow-Covered lands. Love 'em. They add a bit of a twist.