The Tabernacle at Pendrell Vale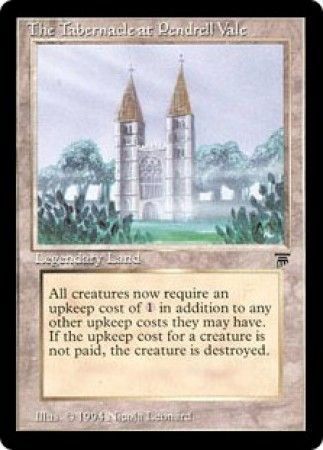 Condition:
Moderately Played
Fulfilled By:
TrollAndToad.Com
Sell to Us $2,262.50
*
* The 'Sell to Us' price may reflect an added website credit bonus. Other buy list payment methods will not include this.
| | |
| --- | --- |
| Rarity | Rare |
| Color | Land |
| Casting Cost | |
| Card Type | Legd Land |
| Card Text | All creatures have "At the beginning of your upkeep, destroy this creature unless you pay." |
| Set | Legends |
| Artist | Nicola Leonard |
| Flavor Text | |
| Description | Legends Single Card |
| Release Date | 1994-06-01 |
| Dimensions | 0" H x 0" W x 0" D |
| Ship Weight | 0.004 pounds |
This card is killer when combo'd with Mindslaver. Its an instant one sided wrath of god. Mindslaver might be expensive to play but in a land deck, you have plenty of time between Maze of Ith and this card.
Outsanding Land, one of the best ever printed along with Library Of Alexandria, Mishras Workshop, and Bazaar of Baghdad. Only thing that holds this back from being the most powerful land ever is its legendary. I am glad to have one that is NM++
-
February 12, 2011
-- Ian
Lands don't cost mana, can't be countered, and is hard to kill. Im surprised printing something so awesome on a land isn't banned. I play it in my lands deck with Wastelands and Rishadan Ports. Tap a few lands here and destroy a few there, it can be a 1 sided wrath of god every turn allowing you to kill any creature. Even if it doesn't kill, locks people out of a lot of mana, especially played early game. For a land deck this card is only win.
-
February 12, 2009
-- Azmodeus Lore
This, in my opinon, is the most powerful land card in print to date (followed closely by Maze of Ith and Mutavault). Now, that being said, it is far from foolproof. A expert opponent will adjust his play to get over on it, and it does not function correctly against every opponent (For example...a true artifact deck will only laugh at it). However, it does make malice in the kitchen of many, many a deck (goblin decks, especially those that focus on token generation, are normaly dismantled by it). I am the proud owner of one, and it has caused much cursing from my opponents. Well worth the price.
-
January 14, 2006
-- studderingdave
side against oath. he wants to give your spirit tokens with orchard, i dont feel like paying there upkeep. guess he cant oath.
-
January 31, 2004
-- Anonymous
Great card! Useful for Winter Orb and Stasis decks! Just think...it's like having a Wrath of God every turn! Hahaha!
-
September 04, 2006
-- Anonymous
if this added 1 mana it would be better than any land, except mishra workshop. My thinking is it would make stax decks even more evil, because of the ultimate creature removal status this brings. I don't see anyone playing this though ? even in mid game it will regulate some things to get you a little extra card advantage. Stax usually has a little more mana out than the oppt anyway, and a few creatures. when you're ready for the lock and if this is out just send it to smokestack to not lose a mana producing land and it could accelerate a little control. who knows just a thought!
-
September 30, 2005
-- Anonymous
-
March 13, 2005
-- Anonymous
one of the few superduper kool cards in magic the gathering. everything about it including its name, gameplay, card value, and art add up to one black belt ninja kick to your opponents solar plexus. i play with this in an all-land 1.5 nuisance deck and this card hitting the table will make any opponent playing creature based decks sweep over half the time. in combination with 'crucible of worlds,' "manlands," and other creature denying cards like 'maze of ith' its almost enough to make your opponent literally weep. in my nine years of playing MTG, i would have to say this deck is the one most personally hated by opponents of whatever caliber. personally, i think 'statis' decks are much worse. but hey, it sure is fun playing your opponents elves/clerics/goblin/zombie/etc. deck and playing 'the tabernacle at pendrell vale' first turn. hehehehehe..............................
well... this is a great card, but its kinda expensive and there is a creature out there that does the same thing... and you can run 4 very easily...and with strip mine, wasteland, ghostquarter out in the vintage format... this land isnt gonna stay... and ive seen OATH decks destroy this land, steal it or ... they wait till there upkeep, tap a forbidden orchard, and give the opponent a token, and then oath... its all about timing... and spreading seas works wonders against this... dont get me wrong.. its a great card... but there are so many other cards out there that stop this... one of my personal favorites, extract.. (one blue, sorcery... search library and remove one card.. and sadistic sacrement, remove 3 cards.)... and sowing salt also is another great card against this... (destroy target non basic, and remove all copies from the game) i can see using this against a token based deck, but those decks have answers to this i give it a 3 star rating because of the price of the card, and the easy way to remove it..and it doesnt produce any mana, it only has one purpose, and if your playing this card, and your opponent isnt playing alot of creatures, its kinda a dead card... and just wastes you a land drop...
Condition:
Moderately Played
Fulfilled By:
TrollAndToad.Com
Sell to Us $2,262.50
*
* The 'Sell to Us' price may reflect an added website credit bonus. Other buy list payment methods will not include this.