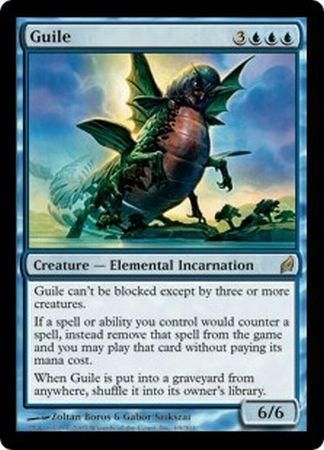 | | |
| --- | --- |
| Rarity | Rare |
| Color | Blue |
| Casting Cost | |
| Card Type | Creature - Elemental Incarnat |
| Card Text | Guile can't be blocked except by three or more creatures. If a spell or ability you control would counter a spell, instead exile that spell and you may play that card without paying its mana cost. When Guile is put into a graveyard from anywhere, shuffle it into its owner's library. |
| Creature Type | Elemental,Incarnation |
| Set | Lorwyn |
| Artist | Zoltan Boros & Gabor Szikszai |
| Flavor Text | |
| Description | Lorwyn Single Card |
| Release Date | 2007-10-12 |
| Dimensions | 3.5" H x 2.5" W x 0.012" D |
| Ship Weight | 0.004 pounds |
-
June 17, 2010
-- Anonymous
Guile played with the silent arbiter is good too, makes him unblockable
-
September 17, 2008
-- Dinosaur
Works great in draw-go, patron wizards, ertai+arcane denial. Also really nice with Grimore thief. Can counter your own stuff to play at will later--nice for storm and multani's presence.
-
October 08, 2007
-- Bob, the Demonic Chipmunk
A great kill mechanism for control decks.
Actually, there is no problem with the Dovescape combo, because Guile says you MAY play the countered spell, not that you must, so you can choose to stop whenever you feel you have enough birds. A very interesting combo.
-
November 04, 2008
-- greg
blueboxthepirate: thats an awesome idea!! except im pretty sure that it would just keep on getting countered and more and more tokens coming into play, and if you're paying online theni *think* that the game couldn't go on unless you could somehow counter the dovescape triggered ability (voidslime) after the effect has resolved enough times. but...awesome!!
-
August 27, 2008
-- blueboxthepirate
guile and dovescape? 1/1 white blue birdies everywhere!!! its a really high costing combo but, if you get it you pretty much win. play a spell (it can be one mana) dovescape counters it put birds in, guile removes it, you play it for free with guile then its countered by dovescape then you get birds, guile removes it again, then play it for free with guile ect. billions of birds!
-
December 01, 2007
-- Anonymous
It obviously works well in counterspell decks. Although it is a tad high costing, you should be running this in control, where high mana costs should not be a problem. A nice finisher and spelljack-on-a-stick. Have fun with this card.
-
November 09, 2007
-- Duke DemonKnight
I might be being a tiny bit overly convoluted, but this plus Counterbalance and Sensei's Divining Top would be totally amazing. Plus I think the Greater Elementals' 'drawback' makes them a sweet target for Gifts Ungiven. The major problem with this cycle of rares is good luck if you want to play with this and one of the other cards from this cycle in the same deck, you need to find a way to get three mana of each color to play them, since you can't reanimate.