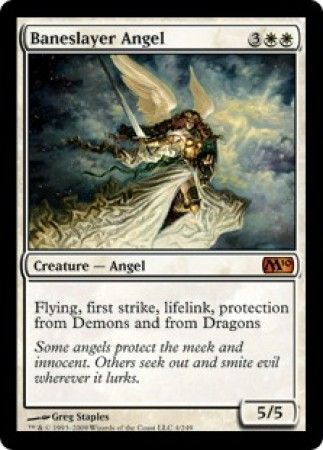 Fulfilled By:
TrollAndToad.Com
Sell to Us $2.23
*
* The 'Sell to Us' price may reflect an added website credit bonus. Other buy list payment methods will not include this.
| | |
| --- | --- |
| Rarity | Mythic |
| Color | White |
| Casting Cost | |
| Card Type | Creature - Angel |
| Card Text | Flying, first strike, lifelink, protection from Demons and from Dragons |
| Creature Type | Angel |
| Set | Magic 2010 |
| Artist | Greg Staples |
| Flavor Text | Some angels protect the meek and innocent. Others seek out and smite evil wherever it lurks. |
| Description | Magic 2010 (M10) Single Card |
| Release Date | 2009-07-17 |
| Dimensions | 3.5" H x 2.5" W x 0.012" D |
| Ship Weight | 0.004 pounds |
-
April 23, 2011
-- Zack Rainey
This card is freakin beastly and it works incredibly well with celestial Mantle, equip that to her and you will be set for a long time
-
February 02, 2011
-- Anonymous
She is powerful creature... with the help of some counters (splash blue) or card distractions (splash black), this card will end the game....
-
January 29, 2011
-- Jace the Mind Sculptor
I begin to build the casual Angel deck since this card appears. I understand how overpowered she is... but you must know that "white" is lack of big and scary creatures that can be played normally. Tarmogoyf and Vengevine (green), Dark Confidant and Abyssal Persecutor (black), are tough.... you think WotC let "white" handle those scary creatures with Serra Angel? Obviously not!! All people who claim this card and rate less than 3 just thinking in standard format, not extendeed and legacy.... If Baneslayer move on extendeed or legacy, then you will stop babbling like that.... because Baneslayer will increase the meta game for "white" on extendeed and legacy...
-
January 17, 2011
-- Guy from Bellow
This card is powerful. 5/5 with 5 abilities for 3WW.... I think she's not as strong as Tarmogoyf, but still... 5 star because she's one of the best creatures ever printed....
-
December 30, 2010
-- Anonymous
This creature is God of Angels. 5/5 with 5 abilities for 3WW. I believe that Akroma, Iona, and Reya can do better, but if you want to drop them quickly - you need to play another card such as Reanimate or Exhume. And it's clear that Akroma, Iona, and Reya are dependent creature. Baneslayer can be played normally, without the support from another card.
-
December 20, 2010
-- Anonymous
Well, she's the best angel ever printed. 5/5 flier for 3WW is powerful enough, but.... wait.... first strike and lifelink..? Are you kidding..?! Also protection from dragons and demons...!!! This clearly powerhouse... a creature which can damaging and boosting your life at the same time! No doubt... 5 star.
-
December 19, 2010
-- Anonymous
This card is EPIC...!! I don't know why the WoTC made this card, maybe they have some reason behind it... but regadless of that, this card is too powerful. More powerful than any other angels... The best angel ever printed!
-
December 17, 2010
-- Mr.X
This card is very powerful. I don't want to get rough like other people, but what I can say is Baneslayers too powerful, especially for standard. In legacy and extendeed, she's the best angel if you want to put in some white based decks. I agree that the mistake is "to keep print out this card in standard". But if she goes to legacy or extendeed, there'll be no problem because a lot more powerful creatures in there....
-
December 15, 2010
-- Anonymous
I agree both the player who rate this card 5 and the player who rate this card 3. I agree this card is overpowered. The cost 3WW with all those abilities I suggest it must be 4/4 and it should be a Legendary.... but it is not. Although it's not like Tolarian Academy, but it's a mistake to keep print out card like this..... I wonder why they're keep printing it again in the 2011 set...? Just to reduce the price...?
-
December 11, 2010
-- Anonymous
I agree the guy above me, with the help of other spells Baneslayer is no match. She's also has better combat abilities, make her can beat the opponent by herself with four hits!!! Ahh... look the comments from Dr.Vintage.... I believe he's already failed as a doctor in the Vintage formats....
-
December 09, 2010
-- Anonymous
Perfect deck: White/Blue control. Couple BA's Sun Titans, Frost Titans, Elspeth, Day of Judgment, Wall of Omens, counters, and some card advantage to kick some ass. How you gonna remove something when I just negate it? Or let you do it, and then wipe the board anyways.
-
December 08, 2010
-- Anonymous
This Angel is the best flying creature ever. 5/5 flying, first strike, lifelink, and also protections.... make her difficult to kill.... I agree about how powerful this card, but this card "still" can be handled fairy easy (if you have some spell destruction of course) and she's not a big deal. Compared to any other angels and flying creatures, she's the best one. But compared to the "game play", she's just great creature..... (although I choose Tarmogoyf over her)
-
November 21, 2010
-- Justin
I can't help but agree with all the complaining about how overpowered Baneslayer Angel is for 5 mana. She is to Serra Angel what Xathrid Demon is to Lord Of The Pit; a new card that does the same thing better, making the old one obsolete; even silly by comparison. Yet when I find myself frustrated that I have to burn all my old LOTPs and replace them with Xathrids I recall this truth: WotC is a company with the goal of making profit. I've been playing Magic since the begining (yes the 90's!) and throughout the years new cards that are sick or "broken" keep on coming, many of them obviously better versions of cards that already exist. I simply remind myself and other players who complain, that if the new cards weren't better than the old cards, gamers like me who already have extensive collections would have no reason to keep coming back and buying new sets. History shows that underpowered sets undersell. We Magic players/customers are the ones who pay for all that fresh ink and cardboard, and we won't buy anything new unless it's somehow better than what we already have.
-
November 01, 2010
-- Ape
My friends, don't get so rude. But we're all fooled by "CARDS". First, Serra Angel (rare version) a 4/4 flying and vigilance for 3WW with the price $3. Buy it? Of course, that the best Angel (at that time). Then here's appear Baneslayer Angel 5/5 flying, first strike, lifelink, and protections for 3WW with the price $20. Buy it? Of cource, that the best creature in standard format (at that time). Now, here's come Angel 5/5 flying, haste, first strike, vigilance, lifelink, and protections for 4WW, also "Morph" ability for 2WW with the price of this. Buy it? Of course..... and so on.... I just want to tell u that if you want to play magic along with the rule, just follow it, like me.
-
July 20, 2010
-- Anonymous
-
July 16, 2010
-- Anonymous
Serra Angel is the lowest class dude, just for casual play... But Baneslayer is for the tier one class... and she's the best Angel by far...!!
-
July 15, 2010
-- Guy from Bellow
Yeah, I agree with the guy above me. If your level is Serra Angel, then use her... But I'm sorry, my level is Baneslayer Angel... For Baneslayer... 5 Stars...!!!
-
June 18, 2010
-- Anonymous
pulled out of pack that came with a "duels of the planeswalkers" deck.
-
June 08, 2010
-- Jace Beleren
Baneslayer is the best Angel. Thanks to WOTC, I've complete my Angel deck for casual play. The sight of 5/5 and has Flying, First Strike, and Lifelink very helpful in the combat relations. Also the others ability (protection from Demons and Dragons) are great enough to face any opposing creatures!!
-
June 05, 2010
-- Anonymous
"Dr.Vintage" you're the most foolish doctor I have ever met. Baneslayer VS Tarmo? Type 2 VS Legacy? What a fool for a doctor... I think you're not a doctor, but just a doctor nuisance maybe.... Baneslayer is very destructive creature, look at the price!!! The price show you that this card is powerful for type 2.
-
May 26, 2010
-- Cameron
To the guy who was wondering if this card would hold its price: There is much talk about baneslayer angel being reprinted in M11, along with WotC making 4 more slayers, one for each color. So although it's really good, and it will stay standard for much longer, the price will drop slightly when it comes out IF it does get reprinted. I'd say somewhere between $30-$35 a piece. I do personally love this card though. I currently use it in a Black/White Sanguine Bond deck with nighthawks, transcendent masters, etc etc...
The guy that claims he's been playing since Magic has been around is wrong. Magic has never had a creature as overpowered as Banslayer since 93' Sure back in the day Juzum Djinn was the Bomb, but even he pales incomparison to this. If MTG made a Demon this powerful it's drawback would be something like, "On your next end step, you lose the game".
-
March 26, 2010
-- Jake the snake
Just pulled a foil one out... Yay for me.
I've pulled a few of these (bought a lot of M10) and I have to say Baneslayer is the best creature to come out in a long time. I'm glad WOTC designed her, too, because I think magic really needed this card. I've checked and there's only one other angel with lifelink, which is odd since you think angels would do that all the time. Also this card is really vulnerable to removal but in casual play or type 2 she sure kicks butt.
-
March 05, 2010
-- around the corner
TWO foil slayers otta one box? hmmm. thats interesting.
-
February 08, 2010
-- timdog
i totally disagree with the person from denmark. i started playing magic since it first came out,and its nice to see some sweet power cards being created again like the old days! magic had been watered down for far too long! thank you WOTC!!!!
-
January 29, 2010
-- Anonymous
-
January 20, 2010
-- Anonymous
PLEASE comment.........does anyone think this will hold value like tarmogoyf after rotation? 5 mana? used only in a lock artifact deck later on i bet. What can this do in a competitive vintage or legacy deck? I hope someone else gives their opinion about after this is out of rotation. Maybe it will be reprinted even in M11 or whatever. Thanks to anyone who comments
-
January 12, 2010
-- blaze5808
This card is truly a BEAST!!!!WoTc was on crack when they came up with this card!!! Glad i pulled two foul ones outta of the same box!!!!
-
December 28, 2009
-- Kevin
I took a break from magic for 7 years. My roommate wanted to start playing. I buy three M10 packs and I get a foil Baneslayer. I wished all MTG cards were this good.
-
December 27, 2009
-- Anonymous
more like wallet$layer angel but honestly one of the best creatures in standard. If you get this out and your opponent doesn't have an answer, they are done. 5 stars all the way
-
December 25, 2009
-- Anonymous
there have been printing errors back in the day, like NO BETA volcanic island, or the switch between plateau pix, and the serendib effret thing all come to mind. However, this is crazy and if tarmagoyf was supposed to be rumored as a casting cost error also....... Is this a mistake? for real? what a nastyyyy little lady.....
-
December 20, 2009
-- Anonymous
Perhaps one of the best White cards out there. I mean, seriously? 5/5 with lifelink, which already makes it better than Exalted Angel, first strike, so unless the opponent's creature has at least 6 toughness it can even touch the Baneslayer, also a flier, so to even try to block it you need flying, and also protection from Demons and Dragons, which eliminates almost everything that can even get close to killing it. Not to mention when I bought four random boosters, I got it.
-
December 13, 2009
-- Al
Why?!?!? WHY?!?!?!?For the next year, is any site going to have this in stock for more than 40 seconds?
-
December 05, 2009
-- The monster that lives in your garage
Insane. this card makes serra angel look like a wimp. i poppe one in my first 3 M10 packs, along with nocturnus and archdruid. Oh yeah!
-
November 19, 2009
-- ferrioso
Say what you will about this card--it's definitely helped boost Path & Banefire sales!!!
-
November 17, 2009
-- Jozsef
Oops. I negate my prior review somewhat. When I first saw this card I thought it had vigilance. I was mistaken. So, instead of encroaching on Serra Angel's turf by 100% she only encroaches by 95%.
-
October 30, 2009
-- Jens
awesome card. Still, this beater is great. I don't know what Wizards was thinking when they made this. Perhaps they just /wanted/ to make a 5 mana 5/5 with 5 abilities.. Even so, Magic's standart isn't ready for such a powerful creature. They woul've been better off making it 4/4 and increasing its manacost by 1 white mana.
-
October 26, 2009
-- pray
What a bomb! now it's the most sought after mythic rare ever. Everyone who had this card will absolutely rate 5 stars, but those unfortunate soul who want to have one, but can't afford it, will simply give bad reviews, in the hope that no one will buying this, and the price will go down, so they can afford to buy a playset. I believe anyone, had already know how good this angel is: It's just so simple: If you can't beat it, play it!
-
October 18, 2009
-- David
Funny someone mentioned getting this and liliana in the same pack because I bought 3 packs and got this and a foil Liliana... I guess when it rains it pours... what a ridiculously good card
-
October 09, 2009
-- Justin Wang
too good... wow even though i have one ( im lucky) I do think that it is over powering 5,5 lifelink protection and flying makes it cost way more and responding to the guy who said that he bought 3 boxes and he still didn't get 1 i got an bane slayer and a vampire nocturnes in 3 booster packs
-
August 16, 2009
-- Jozsef
I really don't know what WotC was thinking with this one. I mean, back in the day we considered serra angel a 5 star card because it stood on it's own and could splash in other decks. This is a serra angel with 3 extra abilities at the same cost. They have degraded one of my favorite creatures and this I am not pleased about, but hey I was glad to pull this from my box. This one is going straight into my white-black-green casual deck. All I can say is It's a good thing dark ritual isn't standard legal anymore. Then this card would be truly beastin'
-
August 11, 2009
-- Angry
lols, pulled this outa a booster today... and liliana... haha ;D anyways, gud kard gud kard
-
August 04, 2009
-- Anthony
5 STARS across the board for this AWESOME lady. An Angel with an ATTITUDE=DEADLY!
These things are so rare to find.. I bought three boxes so far and haven't pulled a single one of them. It is vunerable to a terminate, pulse, path, or any other removal but if you can get this beauty out and flying when your opponent doesn't have an answer you are set.I will have to rank this as one of the best creatures ever made!
-
July 23, 2009
-- Chi-Guy
I am surprised no one has mentioned her protections. Being protected from dragons and demons elimates 90% of the fliers big enough to kill her. It might as well say, "To kill her, you have to terror (doom blade now), fireball, planar cleanse, Maelstrom Pulse, insert removal spell here, etc." She is too good for her cost and they put her in the same set as Serra Angel! Let's see, 5 mana for 4/4 flier with vigilance or 5/5 flier first striker with lifelink and protections?? I think I'll take the Baneslayer.
-
July 20, 2009
-- Johnny E Worthen
Broken Card that is exactly what WotC said it was trying to avoid - "Power Creep." Good Gawd - talk about "power creep"... This is a leap! This negates the Serra Angel totally. What is WotC thinking? Another Akroma. I'm horrified that the only drawback to this card is its rarity. Boo, Wizards, Boo!!!! :-(
-
July 19, 2009
-- john wayne
too good. this is power creep at its finest. 5/5's normally go for 5 mana by themselves, but adding flying is another mana, and then lifelink is another. first strike, meh.. but still, this is a 7 mana angel for 5. this card is so good even if you were playing mono-black you'd want to splash white! how good is this card? so good from now on i'm gonna call it the mox angel, or perhaps baneslayer lotus. i haven't decided yet.
-
October 07, 2010
-- Jens N
Excellent card in many decks, but no matter how you look at it, Bankslayer Angel is still Bankslayer Angel. Casual players can't afford to get these kinds of cards, and it ruins the game to keep printing things like this, especially when they reprinted Serra Angel as a rare just months before Bankslayer was released with M10.
-
July 11, 2010
-- Anonymous
I pulled one of these in the magic 2011 prerelease, and she really helped my G/W aggro deck.
-
June 27, 2010
-- Anonymous
5/5 for 5 with 5 abilities = incredible in type 2. best angel ever printed, and the only reason abyssal persecutor isn't 30$+. only problem is it will more than likely eventually need a new home, and if it doesn't in legacy, then it never will
-
December 31, 2009
-- Fernando
Pulled it out in the pre-release booster draft.It's insanely good... too good... to broken. It's casting cost is extremely low... Serra Angel was the boss since Alfa... got downgraded to uncommon and ridiculed by this cheap folk.
-
August 20, 2009
-- rogonandi
It gets its rating due to its efficiency mostly. She's got three standard and useful combat abilities (Flying, First Strike, Lifelink) and the two minor but very intruiging protections. What prevents this card from being completely broken is that she does NOT have Vigilance. Not having vigilance means that she'll be too busy roving the skies for demons and dragons to defend you when your turn is over (unless you use another card or effect that keeps her untapped, or you decided not to attack.) The other downfall is that she's expensive in the money sense. I pulled one from a box I bought, but she's not that easy to come by and costs about 25$ a piece on average online or in card stores. One of the reviewers above me is right; if she costed one white mana more she would be worth about 1/4 as much to buy.
-
December 12, 2010
-- magicsofa
Yeah players can destroy it for 2 or sometimes 1 mana...so why doesn't it cost 1W? Some people don't understand that cards can be overpowered even if a simple terror will kill it. There's also a difference between winning a game because you happened to play some broken-ass card and winning a game because you have a heavy-handed strategy. If a player wants to swing with this beast, she should be prepared to pay a high cost or suffer through some kind of drawback. Seriously, should a 1/1 with all those abilities cost only 1 white mana? Obviously not.
-
March 31, 2010
-- Anonymous
this creature weighs in @ a 11 on a scale of 1-10 .....no doubt. But after it cycles out and is in vintage or legacy? come on now...........this one guy above is dead on with format usefulness, and i don't know how this will hold value? If it becomes a staple in M11 or whatever they call the next "main print" (which is always 98% watered down CRAP) the value will still plummet cause another 50 million will be printed.
-
February 01, 2010
-- Dr.Vintage
Vintage=too shabby, being white makes it much worse. 4 turn clocks have to be named lodestone golem or tarmogoyf. Legacy=might find a niche, otherwise crap. (Stax, some weird moat control). Extended=Is and will be played in a lot of decks, although i highly doubt its power... Standart=the nuts, esp. with so many jund decks around
it's cute. but theres way too much removal in standard for this to ever win you a game. when it comes out its simply a target to save a better creature. like uril
-
July 22, 2009
-- Cheapy the Cheapskate
Its a shame, paying 1 extra colorless mana for this would save everyone and extra 20 bucks for this card. Sheesh! Love the art!
-
July 11, 2010
-- TheMonsterThatLivesInYourGarage
I dont want to sound like im the person who gives a clearly awesome card a negative review to get people's attention, but I honestly dont think they should have reprinted baneslayer in M11. Its a really good card, but its so overpowered that no one even thinks of playing serra angel, or any other white flyer for 5cc. If they made it cost 6 or 7cc to play then it wouldnt be so bad, but seriously 3WW? Whats next wizards?
-
October 12, 2009
-- Anonymous
...WHAT'S NEXT!? -a legendary darksteel-angel-hydra for 1 colorless, 20/20, with haste, wich can't be countered and deals damage equal to its power when it comes into play???!!!! This is a shame for MtG. Back to basics WotC!
Fulfilled By:
TrollAndToad.Com
Sell to Us $2.23
*
* The 'Sell to Us' price may reflect an added website credit bonus. Other buy list payment methods will not include this.