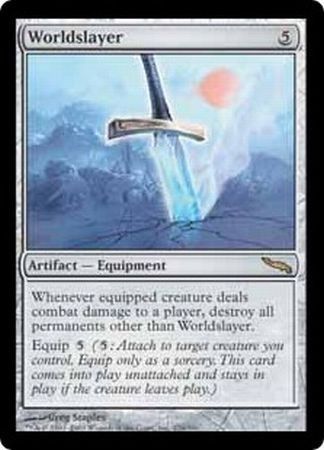 | | |
| --- | --- |
| Rarity | Rare |
| Color | Artifiact |
| Casting Cost | |
| Card Type | Artifact - Equipment |
| Card Text | Whenever equipped creature deals combat damage to a player, destroy all permanents other than Worldslayer. Equip (: Attach to target creature you control. Equip only as a sorcery.) |
| Creature Type | Equipment |
| Set | Mirrodin |
| Artist | Greg Staples |
| Flavor Text | |
| Description | Mirrodin Single Card |
| Release Date | 2003-10-02 |
| Dimensions | 3.5" H x 2.5" W x 0.012" D |
| Ship Weight | 0.004 pounds |
-
July 15, 2010
-- Anonymous
Taunting elf, deathrender, darksteel collosus, rancor worldslayer, just go on a freaking rampage lol
-
July 30, 2007
-- Rob The Almighty
Wow...simply...wow... match this baby up with a Darksteel Reactor, a Darksteel Forge, and Bosh, Iron Golem...its The End As We Know It...Just Watch your opponent wear away in oblivion as counters build up on the Darksteel Reactor...but if you have a mana problem you need to have a Darksteel Ingot in play...Then...END GAME!!!
-
January 11, 2005
-- Michael
Build an indestructable deck, and even with just one indestructible creature and worldslayer on the board, if you can do damage to someone, it's all over. Use it with teleport or fear, or any other you can't block me method, and once you get it out and a creature, the game is over.
-
December 22, 2007
-- Brian
As with many of the Legendary Equipment Artifacts, this blade has a high cost and a spectacular effect. It is definitly another combo card, perfect with Darksteel Citadels and any other Darksteel/indestructible permanent you can get your hands on. In a Multiplayer game, this will win the first round. The second round you will lose very quickly because everyone will be afraid of Worldslayer. Seriously though, any card that completely nukes the field is a casual godsend. Pick this up and try it.
-
July 30, 2007
-- Rob The Almighty
If your not playing an indestructible deck you might want to have a few "Wail Of Nim" Cards Availible...
-
September 14, 2004
-- Anonymous
Great when used in deck with nothing but "Idestructible" creatures.
-
August 22, 2004
-- Anonymous
very fun to use when your opponent plays a strong creature and you equip it to that creature :)