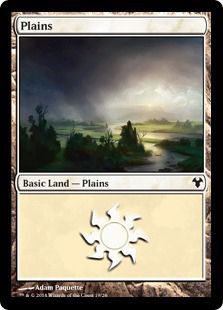 | | |
| --- | --- |
| Rarity | Common |
| Card Text | (: Add.) |
| Creature Type | Plains |
| Set | Modern Event Deck 2014 |
| Artist | Adam Paquette |
| Description | Modern Event Deck - March of the Multitudes Single Card |
| Release Date | 2014-05-30 |
| Dimensions | 3.5" H x 2.5" W x 0.012" D |
| Ship Weight | 0.004 pounds |
-
February 05, 2005
-- Anonymous
probably, next to the 'odssey' block plains, the best block of plains by another classic MTG artist. this particular plains is the best of this bunch because of its heavier ink run and darker tinting and border which is more pleasing to the eye......recommend highly and highly affordable.
-
April 23, 2001
-- kylecando
you cant play without land so it is the best
-
March 28, 2002
-- Anonymous
white is the best deck for cheap creatures and protection as in circle of protection (there is one for each color) and gaining life too as in sacread necter. unfortulently, it is not too good on ofense, so mix it with red and you have a pretty good deck! overall rating for white: bad on it's own, good with other colors.
-
February 21, 2002
-- Anonymous
nothing is worse than a white deck!!!