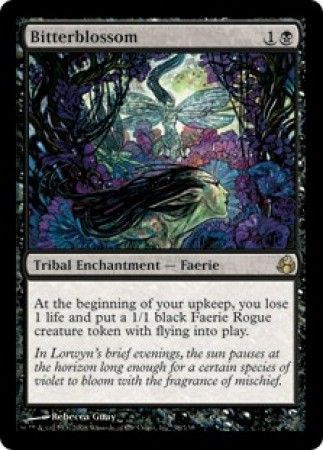 Fulfilled By:
TrollAndToad.Com
Sell to Us $38.35
*
* The 'Sell to Us' price may reflect an added website credit bonus. Other buy list payment methods will not include this.
| | |
| --- | --- |
| Rarity | Rare |
| Color | Black |
| Casting Cost | |
| Card Type | Tribal Enchantment - Faerie |
| Card Text | At the beginning of your upkeep, you lose 1 life and create a 1/1 black Faerie Rogue creature token with flying. |
| Creature Type | Faerie |
| Set | Morningtide |
| Artist | Rebecca Guay |
| Flavor Text | In Lorwyn's brief evenings, the sun pauses at the horizon long enough for a certain species of violet to bloom with the fragrance of mischief. |
| Description | Morningtide Single Card |
| Release Date | 2008-02-01 |
| Dimensions | 3.5" H x 2.5" W x 0.012" D |
| Ship Weight | 0.004 pounds |
-
January 30, 2011
-- Anonymous
First turn: Dark Ritual, Duress, Bitter Blossom.... then the Second turn you may play Hymn or Umezawa's Jitte.... great in black deck forever...
-
January 22, 2011
-- Gabriel Celesta
This card is great. Gets 1/1 flier by paying 1 life is not much, but each turn....??? That's insane... I like this card (not as stupid as Goblin Assault). With Umezawa's Jitte, Sword of Fire and Ice, and Sword of Light and Shadow, you can see how dangerous when they're stick together....
-
January 17, 2011
-- Gabriel Celesta
A crazy enchantment for black again.... in the beginning, it may laughable. But don't let that fool you, 1/1 flying creature each turn is crazy... equip the tokens with Sword of Fire and Ice, Sword of Light and Shadow, and Umezawa's Jitte... the opponent will never laugh anymore... The combo possibility of this card also high.
-
March 11, 2009
-- BLACKY
WHY THEY EVEN MAKE CHEAP CARD LIKE THIS!! WAY TOO INSANE!

PLEASE BAN THIS CARD IN TYPE 2 FOR I HATE BLACK CARDS BECAUSE I PLAY WHITE CARDS
-
January 19, 2009
-- David
This is one of the best cards in the game! In my fun deck I use this with Recurring Nightmare. You can generate a 1/1 Flier at the cost of 1 every upkeep is awesome, plus with recurring nightmare you can get any creature from your graveyard into play! So that 1/1 for 1 life just turned into a Avatar of WOE!!!! Thats insane! Bitterblossom goes in any mono black deck cuz its so good and only cost 2!!! Its worth every penny!!!
-
October 27, 2008
-- Nick
i hate faeries, this is one of the only faerie cards i could get my grubby little hands on, and i have lost games to this card. it's just swell!
-
June 20, 2008
-- ben_taylor79
tomy where you on crystal meth when you wrote your review or are you just a master of the online deadpan comedy?
-
May 25, 2008
-- Anonymous
As if faeries weren't good enough in standard already...... Sheesh, way to beat the dead horse with an incredibly overpowered card. *rolls eyes*
-
May 17, 2008
-- erik farnsworth
scion of oona makes this a 2/2 flier with shroud every turn, and if the life loss is becoming to much, it's TRIBAL...just use mistbind clique to champion it. This card, if left alone in a dedicated faerie deck will win you games by itself, it's rediculous.
-
May 16, 2008
-- ben_taylor79
massively average card with extremely limited potential yes I am talking rubbish and yes your opponent will start to sweat heaviliy when you play one unanswered on turn 2.
-
April 24, 2008
-- David
I got lucky when morningtide was still fresh and got 2 of these, 4 declerration of naughts, and like 60+ uncommons and commons from both lorwyn and morningtide for six bucks, including 4 blackgaurds. out of that both bitterblossoms have won me so many games its crazxy. especially when compared with a U/B faerie deck, running some counters, minor control and fae's. Its no wonder the price keeps sky rocketing and will prolly tap out somewhere near 30 a piece for this card. i can only hope to get a few more from boosters from this point on.
-
April 23, 2008
-- Anonymous
get these while you can. one of the best of the newer cards because it can work with so many strategies. an unanswered bitterblossom will usually win you the game in a duel
-
February 22, 2008
-- Max Walters
I LOVE this card. My faerie deck had 4 of them (2 from boosters, 2 from trades.) Probably the second best fairy tribal card only beaten by Scion of Oona. And if the life loss concerns you just pop out a couple nectar faeires. Problem Solved
-
February 08, 2008
-- Logan
This card works well in the Faerie tribal deck i came up with. I use this card along with Door of Destinies out of Morningtide, Glen Elendra Pranksters, Pestermites, and Spellstutter Sprites, along with a few others out of Lorwyn. With the Pranksters you return the Pestermites and Spellstutters, using their effects repeatedly, and feeding counters into the Door of Destinies, which then feeds all your faeries several +1/+1 counters including the tokens from Bitterblossom. My friends tell me that being kicked by a faerie deck is especially humiliating.
-
February 05, 2008
-- Brian
This is a dangerous card. The ability to generate a 1/1 Flying Faerie each turn may not seem substantial, but with enough time or enough Prowl cards to take advantage of the Faerie influx, an army of 1/1 pingers becomes lethal. The Life loss can be dealt with in many ways. Black loves to leech off of its poor victims. Watch this card, I have no doubt you'll be seeing plenty of it.
-
July 17, 2010
-- Anonymous
I play Mono Black Control deck. First Turn, Dark Ritual and Phyrexian Arena. Then, second turn Bitter Blossom.... (So each turn, I will be able to draw one more card and put 1/1 black rogue faerie token into play). I has a lot of "Drain" spells in my deck, such like Corrupt, Consume Spirit, and Tendril of Corruption. No problem...
-
October 27, 2009
-- Jonathon Miller
Good card. Watch out for Scattershot Archers though. With them in play, Bitterblossom is pretty useless.
No duh this is a good card. But the life loss just really hurts. If you drop 2 of these against an aggressive deck, you had better have a good reason. Faeries are really on the Control side of the Aggro-Control decks, which means that pinging yourself every turn just isn't fun. I've seen this card win twice as many times as I've seen it kill its controller, and in token and faerie decks it's pretty good, but still...it's definitely double-edged.
-
February 22, 2008
-- Anonymous
seems a natural with 'contamination.'
-
February 21, 2008
-- Wesley
I was lucky enough to pull one of these and two Blackguards at pre-release. I absolutely stomped face with a UB rogue deck. That was enough to sell me on faerie rogues. I won first place at a FNM tourney with three of these in a UB rogue deck. I highly suggest getting some of these if you plan on running any sort of a rogue/faerie deck. Heck, splash green and put some essence wardens in there!
-
February 01, 2010
-- Anonymous
pretty good card, use this with Xathrid Demon makes a better breading pit combo.
ok its a great card in theory but, but, BUT, it is severley limited by the speed factor. it cannot be played in fours because you will draw it late game and that will ruin the flow, some people say with an oona's blackgaurd you get a hipy every turn, and yes thats true, but it is speed lacking, rougues will go, turn1 1/1 flier or fear, turn 2 stinkdrinker bandit, then you have time to use accessories like bitterblossem and blackgaurd, and other big hitters, but they are not needed when prowler is beating on the opponent in the air, profane command killing them off, and even a throng thrown in there for kicks and giggles. in short, if you want air power, use latchkey faerie and prowler whome give you card advantage, and if you want speed use stinkdrinker bandit and nightstingers, etc. this card is amazing in draft but the slowness is a problem in standard. and as for "second turn this than third turn balckgaurd" a bandit would be faster and more dangerous. not exceptionall but good in draft.
Fulfilled By:
TrollAndToad.Com
Sell to Us $38.35
*
* The 'Sell to Us' price may reflect an added website credit bonus. Other buy list payment methods will not include this.