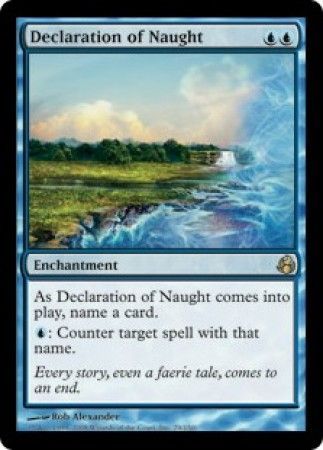 | | |
| --- | --- |
| Rarity | Rare |
| Color | Blue |
| Casting Cost | |
| Card Type | Enchantment |
| Card Text | As Declaration of Naught enters the battlefield, choose a card name.: Counter target spell with the chosen name. |
| Set | Morningtide |
| Artist | Rob Alexander |
| Flavor Text | Every story, even a faerie tale, comes to an end. |
| Description | Morningtide Single Card |
| Release Date | 2008-02-01 |
| Dimensions | 3.5" H x 2.5" W x 0.012" D |
| Ship Weight | 0.004 pounds |
-
May 29, 2008
-- Matt Snihur
This is a neat Card, I expect(hope it) to pick up in the upcoming years.
-
April 28, 2008
-- Anonymous
you wanna know what this is really for? look at the card illustration. It's really for mana supression. Get it out on turn two and declare a basic land type. boom, instant manalock. Just leave one mana open and watch your opponent stare hopelessly at his hand in woe over anything costing more than 3 mana.
-
March 05, 2008
-- ferrioso
For Blue Control, Declaration of Naught is a stellar side-board card! A very tight combo with Telepathy!
-
February 05, 2008
-- Anonymous
this thing is UNBELEIVABLE. the blue mage can now counter all the 4 copies of dragonstorm for uuuu. THATS FOR STIFLES. and u can counter stuff that doesnt have activated abilities like EARWIG and HELLKITE or THOUGHTSEIZE. this thing is amazing
-
April 19, 2010
-- Nicholas
Sideboard card against Loam decks... no more tricks. Also good against decks with Isochron Scepter or against combo decks, as if a blue control deck would have problems with those anyway.